← Back to portfolio
When we were kings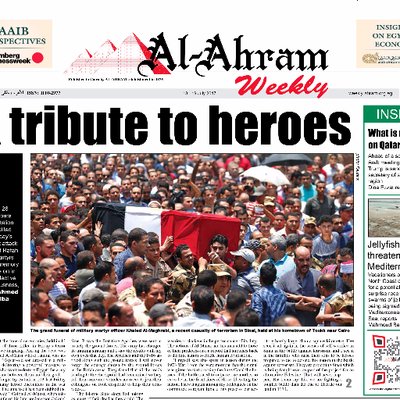 OF CULTURE AND UNKNOWN SPECIES: I showed up at Ustaz Hosny's office in 1994 as a fresh graduate with two things up my sleeve: a fight with my dad in which I insisted on not relying on any of his contacts for work, and a neat folder with all my published stories in the Caravan, AUC's Journalism and Mass Communication Department's student newspaper. Beaming proudly, I extended my the folder for his perusal, and was met with his even broader smile. "I am sure they are very interesting," he politely dismissed, "what I want you to do is go through all our published issues and give me a list of stories you want to start covering by next week. Welcome aboard."
I left his office feeling that this vessel I was about to embark was being steered by the wisest, kindest and most humane captain I could have ever hoped for. What I did not know, however, was that the "vessel" was populated by such a wildly diverse crew -- from shipwrecked sailors, to lords, from pirates to mermaids -- that, as the quote hanging in the Central Desk read at the time, "You do not have to be crazy to work here, but it certainly helps." Oh, I would fit just fine!
During my first two years, I was mentored by the hilariously witty, slicingly sharp, incredibly talented and suicidally bold Fayza Hassan, then editor of the Living Page, to whom I owe much of my writing style. Our conversations teetered on madness, our laughter was muscle-wrenching and our secretely exchanged glances wickedly critical. Fayza taught me to notice the historical aspect of everyday details; she also helped me unlock a number of treasure troves: that unsurpassable humor, and wisdom, results in looking at the world through a clown's eyes; that shafts heavy with grain gracefully bend while it is the empty ones that stand arrogantly erect; that the lives she and I had had, always balancing on two chairs, afforded us a bird's eye view that extended to the horizon. Fayza and her world prepared me well for the professional turn that lurked around the corner, of which I was completely oblivious.
"We at the Culture Page think you should come and work with us," told me then Culture Page editor Nigel Ryan, one day, just like that. He had consciously and delicately placed a hand over my shoulder, while suavely articulating the words with the deliberately focused look he often wore when he meant to appear serious for a change (that is, when he was not, for example, adopting a Southern American "honey child" or a Frrrrrrrrrench Edith Piaf accent, just for the hell of it). The Culture Page! The very den of creativity, the epicenter of insanity and the Weekly 's eclectic nest of undefinable creatures who mostly kept their office door closed and constantly displayed largely unusual behaviour discernible behind the glass wall. I felt extremely, extremely, priviledged.
That's when a whole new world opened up to me: the world of 80-year-old Mr Blake, whose first job ever was joining the Weekly as a music critic five years earlier; the world of flying Hala Halim, whose unmatched meticulousness was fuelled by the deepest reverence to everything she wrote about; the world of Nur Elmissiri, whose spiritual glow reflected on her no nonsense demeanour and the resonant ring in her laughter; the world of Youssef Rakha, the Energizer bunny of catastrophic excess compared to whom even Goofy seems like a dull academician; the world of Mona Anis, whose general knowldege, impressive contacts and intellectual adventures could produce an Encyclopeadia Monatica; and the world of Nigel Ryan, who, not to put too fine a point upon it, once offered his Christmas guest individually-bottled love potions that he had concocted in his own kitchen -- tap water reverently blessed with nonsensical incantations.
This was my world; and every surreal, ridiculous eccentricity I experienced within it remains etched in my memory with a multi-coloured, three-dimensional, otherworldy picture of what once was. As I look back on my Weekly years on this 1000th issue - during which I was in turn reporter, Living Page editor, Culture Page deputy editor and head proofreader - I realise that I learned something from every single one of my colleagues, and that Fayza Hassan and Hosny Guindy have every reason to rest in peace, if only for the good they imparted to my life.
Add a comment