← Back to portfolio
Unda da sea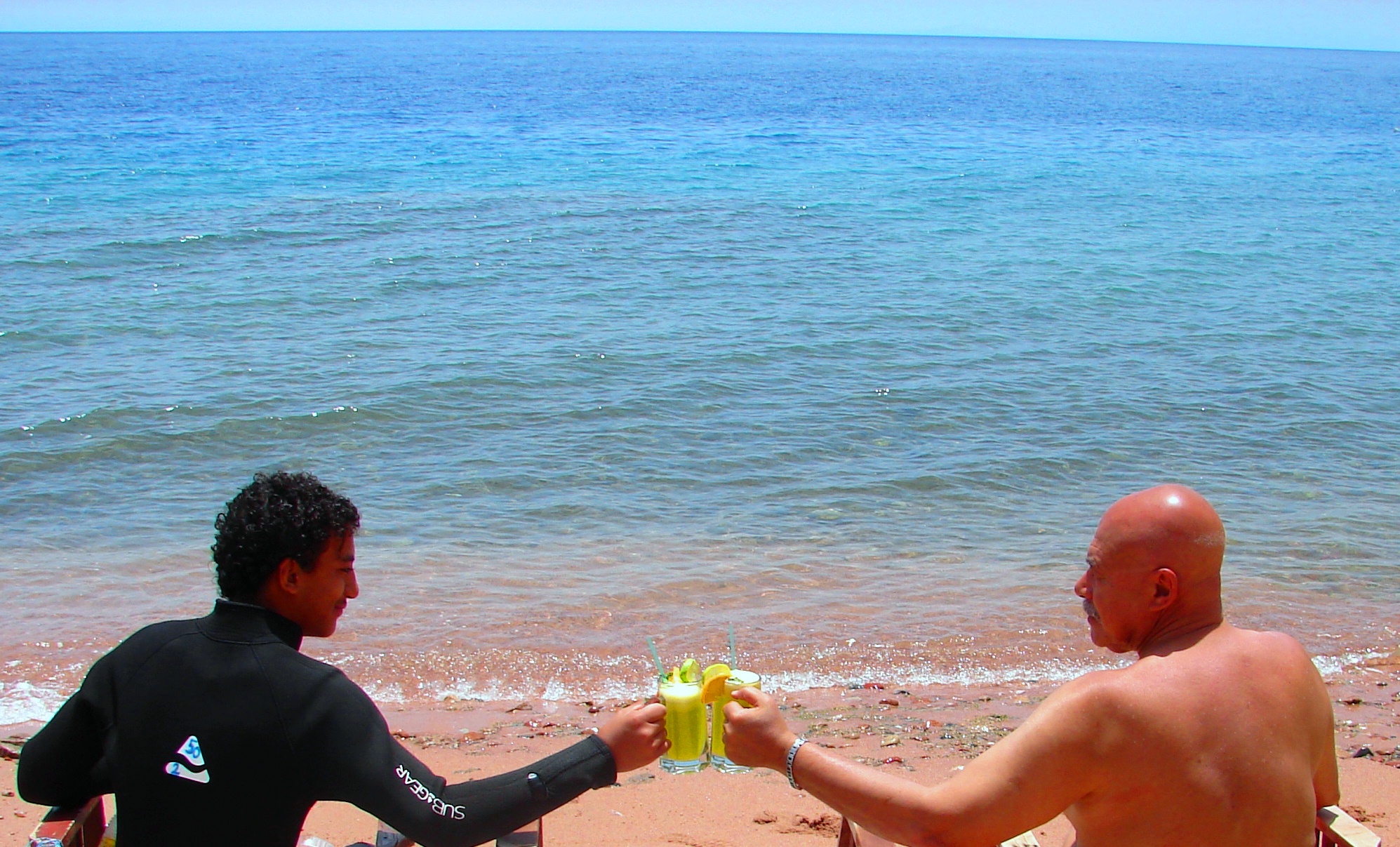 I can't claim to be one of those people who refuse to eat fish out of sympathy or respect for their right to lead a full life safe from sudden death in a fisherman's net. I eat fish and I love it. And yet I must admit that following every time I exit a dive in the Red Sea I feel terribly reluctant, almost guilty, to order fish.
Fish are friends; especially these ones. We're not talking about a dull grey mullet but the quintessence of colours and patterns, the very incarnation of aesthetics. How could I possibly have the heart to stab a fish exhibiting a miracle of creation or shell an endearing shrimp with all its sweet little legs, after the chance to explore the beauty of their world and swim among them while they were alive in their entire splendour? Absolutely barbaric. It was easy eating fish when I dove in the Mediterranean where I learned to scuba dive, but the Red Sea poses an entire different outlook on the matter. The Red Sea, diving experts all agree, offers some of the world's top ranking diving destinations with Big Brother and Jackson Reef at the pinnacle.
The Red Sea's location on a 3,000m- deep fissure in the Earth's surface -- called the Great Rift Valley -- explains the extreme depth of its bottom and some of its most attractive features like underwater islands, unsurpassed visibility and aquatic variety exceeding 1,000 fish species. Although initially famous for world-renowned sites such as Sharm El-Sheikh, the Sinai Peninsula's Red Sea shoreline has over the years witnessed a development boom which has dotted its coast with a great number of resort towns, facilitating access to an immense array of diving destinations catering for different whims of divers from around the globe. Many of them become so entranced with the underwater riches, that they seek permanent residence in order to be able to continually dive the sites revealing literal bolts from the blue as their charm is never fully unmasked.
TABA, THE MYSTIFYING ONE: It had been quite some time since my last dive, and I had never dived in Taba before. Since it is located on the Gulf of Aqaba, I imagined Taba dive sites to be replete with sharks and I happen to have a love-hate relationship with sharks. Just because I manage to remain cool, calm and collected to set an example before my son, by no means does that imply that my nerves even remotely resembled coolness, calmness or collectedness.
In fact, I am always nervous of the thought of shark presence before a dive; yet every single time I actually spotted one while underwater, I felt nothing but rapture and admiration. Regular Taba divers looked at me blankly when I mentioned sharks, with the occasional sigh betraying their longing at actually spotting one.
"Never" is too unscientific, but in Taba sharks are highly improbable. What Taba is actually famous for is a multitude of less controversial creatures you are sure to encounter on every dive, such as lionfish, sea turtles, octopus and the usual suspects like clownfish, blue- spotted rays and morays.
Diving is operated through Waterworld, a professional five-star water sports and activities centre located at Taba Heights. It is a relatively recent venture which gave the area a veritable upbeat kick following years of negligence, and thus placed Taba on the diving map with accessibility to the famous sites of Ras Amira, Marsa Al-Muqabila, the Aquarium, Angels Net and Zack's Table. Taba is still in the process of garnering international attention as a diving destination, and therefore traffic above- and underwater remains considerably low compared to higher-profile spots such as Hurghada or Sharm El-Sheikh. I had the fortune to dive Taba last month, and so should you, before it becomes too crowded in the near future because of its unique sandy seabeds, low currents and laid back underwater experiences.
Though I arrived bright and early at Waterworld, the diving centre was already abuzz with divers from the four corners of the globe gathering their gear for the day's dives. Some had boat plans aboard one of the three diving boats offering half- or full-day trips, others were timidly getting ready for the open water dives of their courses. Meanwhile, others like yours truly were just ecstatic to be minutes away from sinking under the surface of the Red Sea. Having dived in Sharm, Dahab, Nuweiba and Marsa Alam, I know that regardless of the endemic experiences related to each destination one common denominator always and forever characterises the Red Sea: warm waters, high visibility, exploding colours and mind-blowing coral formations. My buddy was a young Hungarian tourist who had invested his life's savings into this trip to Taba and, judging by the brightness of the smile never leaving his face, did not regret it one bit.
Our entry was from shore, nice and smooth into a gradually deepening bottom. The first to greet us was a sea turtle, vertically resting against a small reef to nonchalantly watch us squeal in our regulators. My first sea turtle ever, and only at about five metres deep. The thrill of this encounter aside, my growing impression of this dive in Taba was that, like the rest of the Taba Heights resort town (see 'Empire of the senses', p4&5), all elements combined to make for relaxation and repose -- nothing scary, nothing dangerous, nothing daunting; all just beautiful and easy, welcoming, like diving into an aquarium with some of the largest brain and cabbage corals imaginable, sea horses, parrotfish, trumpet fish, emperor fish, Picasso fish and just about every Red Sea fish to be expected all gathered at depths not needing to exceed 18 metres. Perfect for beginners, ideal for underwater photographers, and wonderful for divers seeking to dance among the entire Red Sea fish gang.
NUWEIBA, THE FORGOTTEN ONE: Nuweiba is where I saw a black fan coral so immense that it actually scared me though it was not even a fish -- it could have been approximately three metres wide, truly out of this world and straight out of a Jules Verne novel. Abu Lou Lou, Outside Hilton, Sinkers, MFO Pipeline, Al-Mazariq, Ras Al-Shitan, Al-Magana and Rock Sea are the most popular dive sites found in the quiet and minimalist town of Nuweiba.
Every destination along the Red Sea has a unique character, and Nuweiba is where divers and non-divers will find the most calm, least technology and best back-to-basics hut-dotted beaches to retire after a day's scuba diving. In Nuweiba, the day is for being awestruck by the underwater world and the night is for watching the starlit sky lying on a mat along the seashore. When not wearing your flippers, you will walk barefoot; when not swimming under the sea, you will climb a hill and quietly watch its blue expanse while the sound of silence is broken only by the ringing laughter of an intimate party of friends.
You will have a chance to reflect on the meaning of it all; the underwater sanctuaries you just left behind and their flawlessly organised rituals where creatures of spectacular magnificence lead their busy existence completely oblivious to yours; why you were given a chance to witness their being and why they were created at all. This is the spirit of Nuweiba above and under the sea, to behold, to absorb, and then to muse.
DAHAB, THE GOLDEN ONE: Dahab is where I saw my first shark at Ras Umm Al-Sid; and my second one as well at Abu Galoum. Both were Black- Tip reef sharks, both no more than 10m away in perfect visibility. I never got over this moment, and even to remember it now makes my heart skip a beat. There is nothing more awesome, more breathtaking, more adrenaline- pumping than spotting a shark underwater gliding majestically by in its full aerodynamic grandeur, that eye suspiciously checking you before it swims away as though you did not exist. It is like bumping into the president of an inter-galactic empire or having Einstein explain his theory of relativity exclusively to you over dinner. You feel chosen; you feel that the sea has granted you its most valuable gift.
Imagine loading your modern and sophisticated diving gear on a camel's back and riding the beast to your diving destination along a path of golden sands, where pristine turquoise waters delicately caress the shore. Until recently, this was the only way to reach Gabr Al-Bint, Dahab's southern dive site, as the road becomes inaccessible by Jeep. Although today diving boats can take you to this spectacular dive site, the oft-preferred choice remains on camelback. Other famous dive sites to choose from in Dahab are the world- famous Blue Hole, Bells, the Canyon, Canyon Table, Eel Garden, the Islands, Abu Helal, the Lighthouse, Abu Galoum, Abu Talha, Abu Helal, Islands, Napoleon Reef, the Lagoon, Golden Blocks, Moray Garden, Three Pools, Umm Al-Sid and the Caves. Strong currents accounting for big fish and excellent drift dives, Dahab is for the adventurous souls seeking fresh thrills.
SHARM EL-SHEIKH, THE EXTRAVAGANT ONE: With over 25 dive sites, it is no wonder that Sharm El-Sheikh has long been Sinai's most famous diving destination. The largest of its sister resort towns along South Sinai's coastline, Sharm is the home of the wild party animals, the bright lights, teeming dance floors and busy shopping malls. A small version of Acapulco, it is the international resort town par excellence for the rich and famous. The only way to find peace and quiet when in Sharm is to sink below the surface of its sea, where the bubbles floating out of your regulator become the sole audible attraction while you, for example, dive around a historic 17th century Turkish vessel shipwrecked along with its cargo of amphorae.
Ranking at the top of world diving destinations are two of Sharm's spots: Jackson Reef in Tiran and Ras Mohamed -- with its steep walls covered in corals plummeting to depths of 1,000m and schools of Hammerhead Sharks, Manta Rays and other large predators. The latter offers a quality of diving rivalled only by Australia's Great Barrier Reef. The National Park of Ras Mohamed includes Ras Ghozlani with pinnacles teeming with glassfish, Ras Zaatar with schools of Barracudas and huge Gorgonians, the Eel Garden, the breathtaking Shark Observatory and neighbouring Anemone City, as well as the Shark and Yolanda Reefs located at the very tip of the Sinai Peninsula where the cargo ship Yolanda sank in 1987 for today's divers to explore its wreck. Jacks, tunas, unicorn fish, barracudas and batfish attract various types of sharks to the strong currents of this challenging but extraordinary dive.
Add a comment