← Back to portfolio
The movement of the brush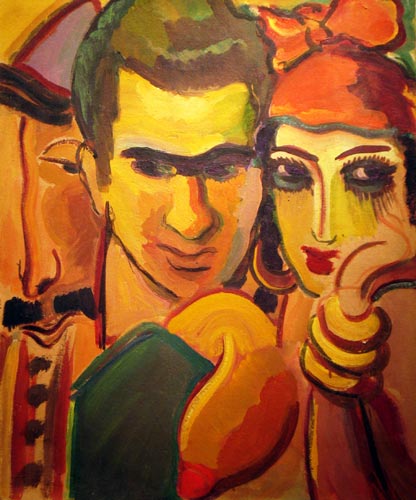 It is quite daunting, really, to entertain the prospect of reviewing an exhibition of works by such a giant. The only comfortable, and possible, way of doing so is temporarily dissociating the artist's name from the artwork and contemplating it solely for what it is: a work of art. At Al-Masar Gallery in Zamalek, that is precisely what happened on the inauguration of the exhibition displaying the work of Hussein Youssef Amin (1904-1984). Arriving a little earlier than the scheduled opening time and being granted an entry on account of the profession, I could roam the halls freely before the arrival of Minister of Culture Farouk Hosny, the late Amin's family members and the plethora of artists and critics who were to partake of this memorable occasion: the first such collection on display in 50 years.
One of the pioneers of the 20th century modern art movement and founder of the Contemporary Art Group in 1946, Hussein Youssef Amin constitutes a veritable watershed in the history of Egyptian art. Determined to counter the romantic and unrealistic representations of Egypt inherited by the influence of Orientalists – diluted but still existent in the 1940s – Amin set out on a celebration of local tradition, capturing the authenticity and uniqueness of commonplace, fleeting moments through painterly representations, as well as enmeshing his work with figurative details deeply ingrained in the popular psyche. This Fauvist painter's philosophy was simple: "No art without knowledge, no knowledge without school and no school without proper education and a suitable family home." The last word, home, upon which he constructs his entire artistic theory, echoes as loudly from the composition of his canvases as it clearly did through his yearning for "Egyptianising" the entire artistic movement.
An excellent choice of placement at the exhibit, the first set of works on display that immediately greet the entering visitor are pencil drawings on paper, metaphorically alluding to the skeleton, the essence, of the artist's vision before he "fleshed out" his subjects with paint and color. The sharp facial bone structures of his semi-nude models are oblong and elongated; their bodies thin and proudly erect, they stand in stark contrast against the voluptuous, languorous and indolent women in Orientalist perceptions.
Although in visible movement and often depicted in company, his female subjects are secluded from one another in intangible yet overwhelmingly manifest independence and uniqueness. Whether they are caught with another female or with a male, each woman is a world onto herself, unmistakably severed and isolated. This quality is particularly evident in a series of oils on canvas depicting Nubian dancers with various musicians who invariably lean toward the female, whisper in her ear, directly address her in posture and expression, while her gaze remains fixed before her, unconquerable. Amin's women are not pretty, but they are beautiful – they are Egypt as he saw her.
This important exhibition also features a number of works by other prominent members of the Contemporary Art Group. The fascinating paintings of Abdel-Hadi El-Gazzar (1925-1966), which continue to puzzle and inspire artists around the world, become all the more distinctive when displayed alongside his colleagues' in the same group. His paintings reflect such a mysterious mysticism that a certain spiritual energy seems to permeate the very pigment. The son of a sheikh, El-Gazzar's upbringing in Al-Sayeda Zeinab provided the earth in which the fruit of his creative genius flourished while the moulid, zars, dervishes and myths all found such deep resonance within this artist's perceptions that they became the bottomless well which continually watered his inspiration.
In sharp contrast to El-Gazzar's silent depictions of an impregnable world of unfathomable mystic forces stand Salem El-Habashi's loud and nightmarish Daliesque depictions of confusion and torment. Surreal and meticulously detailed with painstaking accuracy, his drawings are commentaries on achievement, technology, scientific discovery and their inevitable results on the human psyche. A desolate owl symbolizing wisdom is perched desolately on a breaking wooden wheel – the oldest human invention – while a stream of consciousness denotes the ravages of time: objects melt, hearts turn metallic, eyes so red from seeing that their minutest capillaries seem ready to weep blood on the very paper. The agony here is as explosive as the serenity in El-Gazzar's paintings is implosive -- another fabulous choice of display on the part of the exhibition's management.
Samir Rafie (1926-2004), another member of the group and Hussein Youssef Amin's student, who later became drawn to surrealism under the tutelage of George Henein to become member of the Art and Liberty Group, relies on lines, symbols and iconic styles to tell his version of reality. A flower, a candle, "The ladder and the Scorpion", are all so decontextualised and magnified that their symbolic significance inevitably absorbs the onlooker's attention until any meaning becomes crystallised in these objects transcending their limiting form for a metaphysical dimension. Artist, thinker, philosopher and writer, Rafie's artistic repertoire is an echo of his political and ideological melancholy.
Among the most outstanding Egyptian printmakers, Maher Raef (1926-1999) created innovative techniques for cameo and intaglio 12 years before obtaining his PhD in the history and philosophy of fine arts from the University of Cologne, Germany. His pastel "The Musicians" renders evident his discernment of heritage as a vibrant, endless and impermeable entity without beginning or end, manifested in the palette of deeply rich and saturated colors, the roundness of the figures, their enlarged hands and shrouded faces.
"Remembered", the title of the exhibition is an honoring and a reverence to these departed members of the Contemporary Art Group, who sowed seeds that have yielded countless fruits over decades by the numerous artists who followed in their footsteps. Satisfaction in the self, the celebration of identity and fortification of its authenticity are at the core of this splendid collection of Egyptian art.
Al-Masar Gallery, Baehler's Mansion, 157, 26th July St, Zamalek.
Tel: 273 68537 – 010 067 0750
Saturday-Thursday, 11am-9pm. The exhibition runs until 21 March.
Photo: fineart.gov.eg

Add a comment