← Back to portfolio
Sweet talking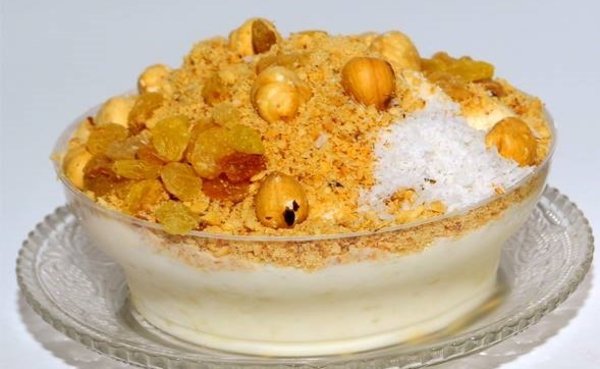 Injy El-Kashef goes a little nuts
Most of the restaurants that expand and acquire new branches are originally Cairene. One nucleus gains reputation with a large clientele in a Cairene district, and soon enough other branches begin to sprout throughout the capital, later reaching Alexandria and the northern Mediterranean coast, and possibly even Red Sea resorts like Sharm Al-Sheikh. With Saber, it was a different matter.
The whole frenzy began when the Ibrahimiya district in Alexandria witnessed the birth of a dairy genius. Saber specialised in mahallabiya, rice pudding and ashoura, besides a long list of other milk-based desserts. Of course, Saber was one among millions to take up the profession; he was the only one to develop a nation-wide reputation. But -- as many wondered -- why? The answer is simple: when Saber says mikassarat (nuts), he means lots of hazelnuts, pistachios and almonds, not the scattering of peanuts one gets elsewhere. When Saber says ishta (cream), he's talking about a centimetre on top and much more inside. And when he says ashoura with cream, nuts and bouza (mastic ice-cream), he means exactly what he says. Saber is no sweet talker, he is a man of his word.
It is for these simple reasons, namely honesty and integrity at regular prices (not to mention Saber's renowned staple, the unmissable rice pudding with ice-cream), that Saber now owns five branches outside Ibrahimiya. Not only that: although the Cairo branch has only recently opened, all we needed to do to find it was head in the general direction of Mohandessin and ask a passer-by "The way to Saber, please".
The Cairo branch is quite small and does not include a sitting area. One must either take the goods home or stand in the tiny space afforded by Saber. The food is made even tastier by the terribly pleasant waiters who help with the orders. Added to the huge list of dairy desserts are other products like mishmishiya (apricot paste) and Saber-made ice-cream. The ice-cream flavours include fruity, sharp ones like mango, banana and lemon, as well as creamier ones like mocca, hazelnut, toffee and chocolate fudge -- all delicious and nutritious.
Everything about the place is fantastic, except possibly the prices. Saber can now afford to raise his prices seeing the success of his shop, and the classic ashoura with nuts is LE2.80 for an individual serving. We had ordered four large packs, each equivalent to five individual dishes. The waiter was extremely friendly, almost too much so, and sported a devilish grin as he packed the order in the plastic bag. "You owe me LE60, please." Several pairs of round, unbelieving eyes stared at him for a few seconds; he continued to smile mischievously with one raised eye-brow.
Saber may well be a sweet talker after all.
Saber, Midan Libnan, Mohandessin. Tel: 304 4138
Photo from elmenus.com

Add a comment