Singing in the rain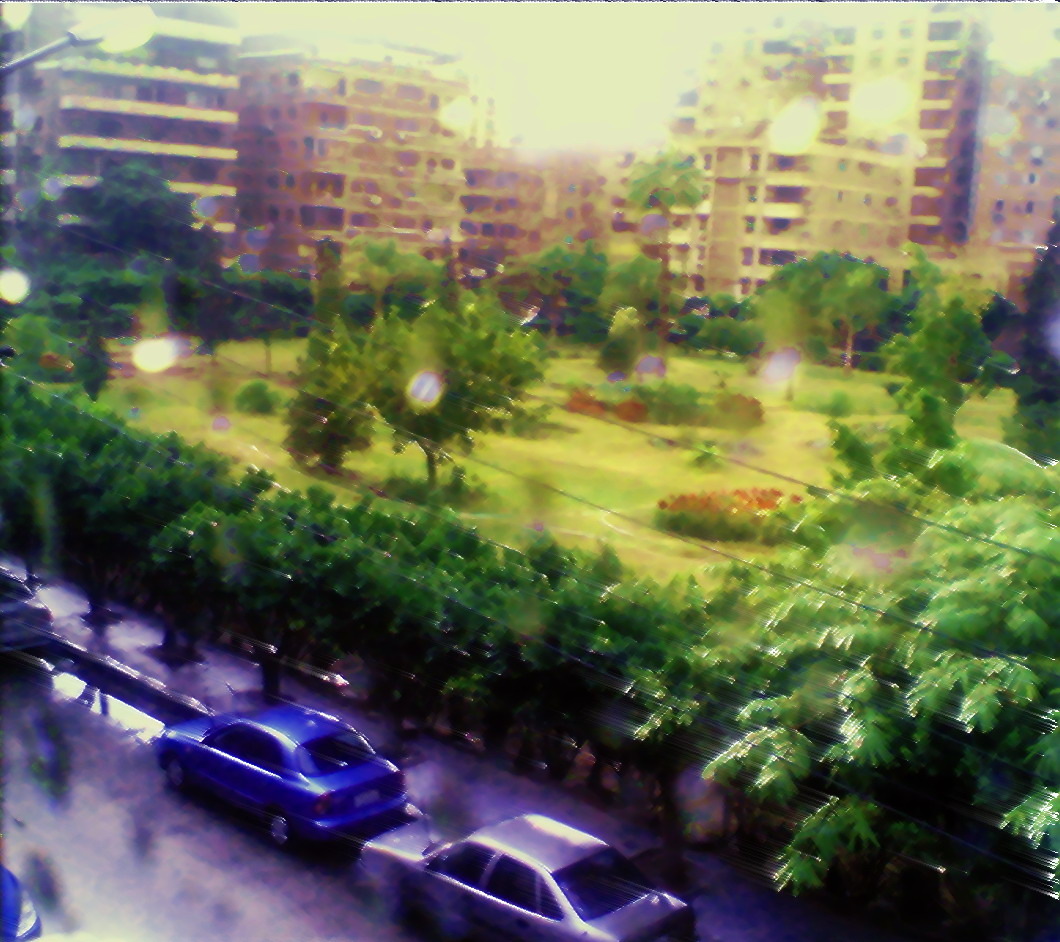 Last Thursday, the sky over Cairo suddenly turned a menacing dark grey around sunset, with clouds hanging low over the cityscape. In a matter of minutes, lightning flashed, thunder rolled and the heaviest rains to fall on the country during the past 50 years began to pour on unsuspecting residents, who were caught completely off their guard.
Soon, as the thick drops froze, hail began to pound against windows and on the hoods of cars. The general mood was one of elation, as the city beheld the power of the elements it is so rarely granted the chance to witness in this sunny part of the planet. As time passed, the wind grew in strength, the rain in intensity and the streets in traffic -- Cairo is simply not designed for rainstorms. Those driving home from work as the storm struck were stranded in traffic jams for hours on end, while those who'd been lucky enough to have made it home before the rain started cancelled further plans for the evening.
Not the members of Project Yourself, though -- these young people were undeterred, unwavering and unstoppable. Thursday night is their monthly chance for self-expression, and no thunderstorm was going to get in their way.
"There was thunder and hail. We were definitely impressed by the weather, but my sister and my Dad were performing, so we wouldn't have missed it for the world," says 23-year-old Farida Makkar, who is employed at the Ministry of Finance's Equal Opportunities Unit, where she heads the Equal Opportunities for Women in the National Budget of Egypt project.
Her father and sister were due to play the guitar and sing in English, performing together for the first time. "Back in the 1960s at the American University in Cairo [AUC], Dad used to put on one-man shows that were very successful. Although he has composed a number of pieces since, he has never really been able to promote his music. This was a welcome return to the stage for him," she explains.
Makkar's sister started to play the guitar a year ago, and since then she has only ever performed privately -- that is, until she joined Project Yourself. "Together, the two of them entertain the audience, forming a good duo and setting up a whole show. This has definitely boosted her confidence on stage. I think she definitely wants to make her musical talent public now," Makkar says.
According to Maryam El-Quessny, founder, manager and pilot of Project Yourself, "there is a definite hunger for self- expression among Egyptian young people, and frustration is staring us in the face every day." From a background in Fine Arts at the AUC, El-Quessny transferred to the Pratt Institute in New York, from where she graduated with a BFA in interior architecture. Currently, she works two part- time jobs as a designer at architectural firms.
El-Quessny believes that the "very obvious need" for young people to express themselves is evident through the growth of social networking sites such as Facebook, Twitter and the innumerable blog spots. "Our young people are splitting their lives between the virtual and the real. By allowing you continuously to update your status -- what you are doing or thinking -- or upload photos and notes for your friends, friends of friends, or even complete strangers to see, social networks allow forms of expression to explode in the virtual world," El-Quessny says.
Her idea in creating Project Yourself was to set up something similar, only "in our physical-actual world". The concept was to come up with "something tangible, something seen and heard in front of an audience in 3D, something that says something and offers it to the world. All this is healthy and is a way of releasing pressure."
Makkar agrees, and adds that what is so effective about Project Yourself is the fact that "people have the chance to express themselves in a safe environment, where those attending are interested in listening. The state of mind is very accepting and open."
Although Project Yourself "attracts enthusiastic, passionate and educated people from various social backgrounds," according to El-Quessny, Makkar still looks forward to more Arabic, and less English, at the gatherings.
At the moment, "we are an alternative sub-culture within the upper class," she says. "We were lucky with our education, since we had arts, gym and theatre. However those who didn't have the luxuries we had when we were growing up would also enjoy standing behind the microphone for 10 minutes to express themselves."
Echoing Makkar's thoughts last Thursday at Project Yourself's most recent gathering, one stand-up comedian began his act by saying that, "since we are in Egypt, we will speak Arabic." His show was a hilariously subversive account of every young man's two years of military service, and later another performer used his act to recite colloquial poetry in Arabic, subtly and wittily criticising the system as he did so.
"Diverse voices are beginning to sprout, which definitely enriches the experience," says Makkar, whose performances have also shied away from the artistic in favour of a different form of self-expression. "The first time I was on, I urged the audience to get their voting cards ready for the parliamentary and presidential elections. During my next performance, I tried to raise awareness about an anti-smoking campaign being organised by a friend who wants to establish weekly smoke-free nights in cafés and restaurants."
"I certainly haven't started something original," comments El-Quessny about her project. Instead, she says, she has "implemented an already-existing concept locally, being the idea of the 'open mic' that is very common in, say, New York, and is usually hosted by a café." The last two meetings of Project Yourself were, in fact, held at Makan, the Egyptian Centre for Culture and Art, which has established itself as a guardian of authentic musical forms -- such as zar and chanting -- through workshops, documentation, the production of CDs and books and participation in international festivals.
Makan's assistant manager, Dina Said, says that self- expression through acting, dancing, music, poetry, or any other artistic form, as encouraged through Project Yourself, are high on the centre's agenda, and it supports the group by providing the space required for its events. "A person feels safe knowing that self-expression is possible without the need to impress or to gain critical acclaim -- no one needs to be a professional to dance for joy," Said says, adding that "around 60 people braved the storm last Thursday to come and experience just that."
For her part, El-Quessny argues that the open mic nights are definitely "a good place for talent scouts. I would love it if critics or accomplished poets and artists participated, or even just attended, although criticism is only welcome if a performer requests it. I don't want anyone to feel judged."
How talented are the participants, though? If the atmosphere of acceptance is anything to go by, it doesn't really matter. After all, El-Quessny says, "this is not a talent show or a contest. It is meant to be an opportunity for anyone to speak, sing, dance, scream, move, read, or cry. It's an environment that includes vulnerability, love and acceptance."
Today, Project Yourself is expected to undergo expansion, yield sub-events and branch out in different directions. For one thing, El-Quessny plans to create a similar event for children, "so that they get this encouraging chance early on." The children's project is aimed from the start at "kids from all socio-economic backgrounds. It's very important for me to try in a small way to melt ugly boundaries."
Although she has been blessed by having been brought up in a nurturing environment, El-Quessny believes that "it is not the norm in Egypt for parents to encourage their kids to go out and experience life on their own, or to make mistakes and learn from them."
How will Project Yourself for children fill this gap? "By creating at least a temporary environment that affords the freedom, as well as the responsibility, for the child's own voice to be heard," she explains. "I hope that self- expression will grow in this way and explode out into the real world."
Express yourself at:
http://project-yourself.blogspot.com.