← Back to portfolio
Shampoo and set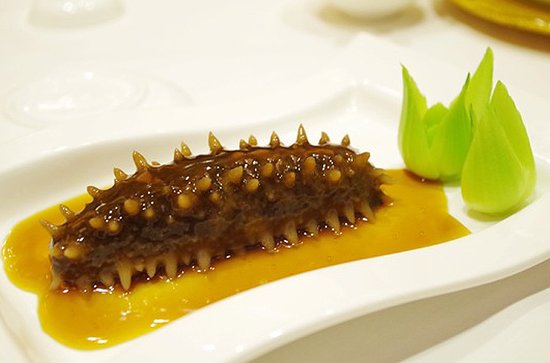 Injy El-Kashef fights for sea cucumber rights
If a book were to be judged by its cover, Paxy's would have been out of business a long time ago. What with the non-existent sign (not) indicating the restaurant, the tattered Chinese lantern at the entrance and the modest aquarium housing a handful of very unhappy fish, one is reluctant to trust the place. Convinced, however, that even restaurants should be regarded as innocent until proven guilty, we proceeded forward with a few hesitant steps.
We were met by the reassuring sight of several busy tables occupied by no less than Asian customers heartily indulging in the good things that lay before them. With a deep sigh of relief we sat down and began to contemplate the bizarre technological device hovering over our heads (vaguely reminding us of beauty salons), while a waiter swiftly flew in with the menus. My immediate reaction was to ask him why Paxy's thought a professional blow-dryer was so important an accessory at an Asian food restaurant that they endowed every table with one. I refrained from voicing my ignorant inquiry, however, confident that answers come to those who wait.
What did indeed come is some of the best Chinese/Korean food I have tasted in Cairo. Beginning with a dish of Shark's Fin with Crab Meat, we discovered what a blessing it was to eat Korean food outside of Korea: had we been in the dish's native country, we might have found a generously proportioned triangle sitting in our plate instead of the tiny morsels we received at Paxy's. And although what we ate was extremely tasty, the waiter himself could not point to the shark's fin with a steady finger. The (very very few) Shrimps in a Sweet and Sour Sauce (not just ketchup mixed with honey) and the Fried Fresh Squid came sizzling hot and very powerfully flavoured.
As for noodles, unlike other Asian food restaurants where no number of words on a menu makes the slightest difference as to taste, Paxy's takes the issue very seriously. Shang Hai Style Assorted Vegetable Chow Mein Soft Noodles are just what they claim to be. On the other hand, the Chinese Glass Noodles with Sliced Beef in Vegetable Sauce knew that they could not afford to bear too overpowering a taste since they were made of so many items.
The waiter, horrified, flies again to the table: I allowed too much soy sauce into my noodles. Barely holding back his tears, he tried to explain, as politely as he could, that no self-respecting Asian food eater should ever, ever, let that happen. As I lowered my eyes in shame, he quietly, but firmly, removed my plate and returned with a clean one. He was a good man. He had also tried his best earlier to dissuade us from ordering the dish of Braised Sea Cucumber Squid and Bamboo Shoots. He really tried, but we wouldn't listen. It's a free country. What else could he have done besides telling us that sea cucumbers are slimy and tasteless? Or that they arrive the size of a finger and are boiled for four days until they are an arm's length?
No amount of jasmine and ginseng tea could wash down the cucumbers. But we were taught as children that if you forgive your enemy, the world will be a better place. That is why we are now laying the foundations for a sea cucumber preservation society. Surely they are an endangered species better left alone.
The food and non-alcoholic drinks came up to LE204. Go see the hair-dryers for yourself.
Paxy's Restaurant, 26 July St, Amoun Hotel, Midan Sphinx, Mohandessin. Tel 3473928 / 3461244
Photo: https://fr.tripadvisor.ca/LocationPhotoDirectLink-g45963-d422649-i333018174-Joyful_House_Chinese_Cuisine-Las_Vegas_Nevada.html

Add a comment