← Back to portfolio
Pure adrenaline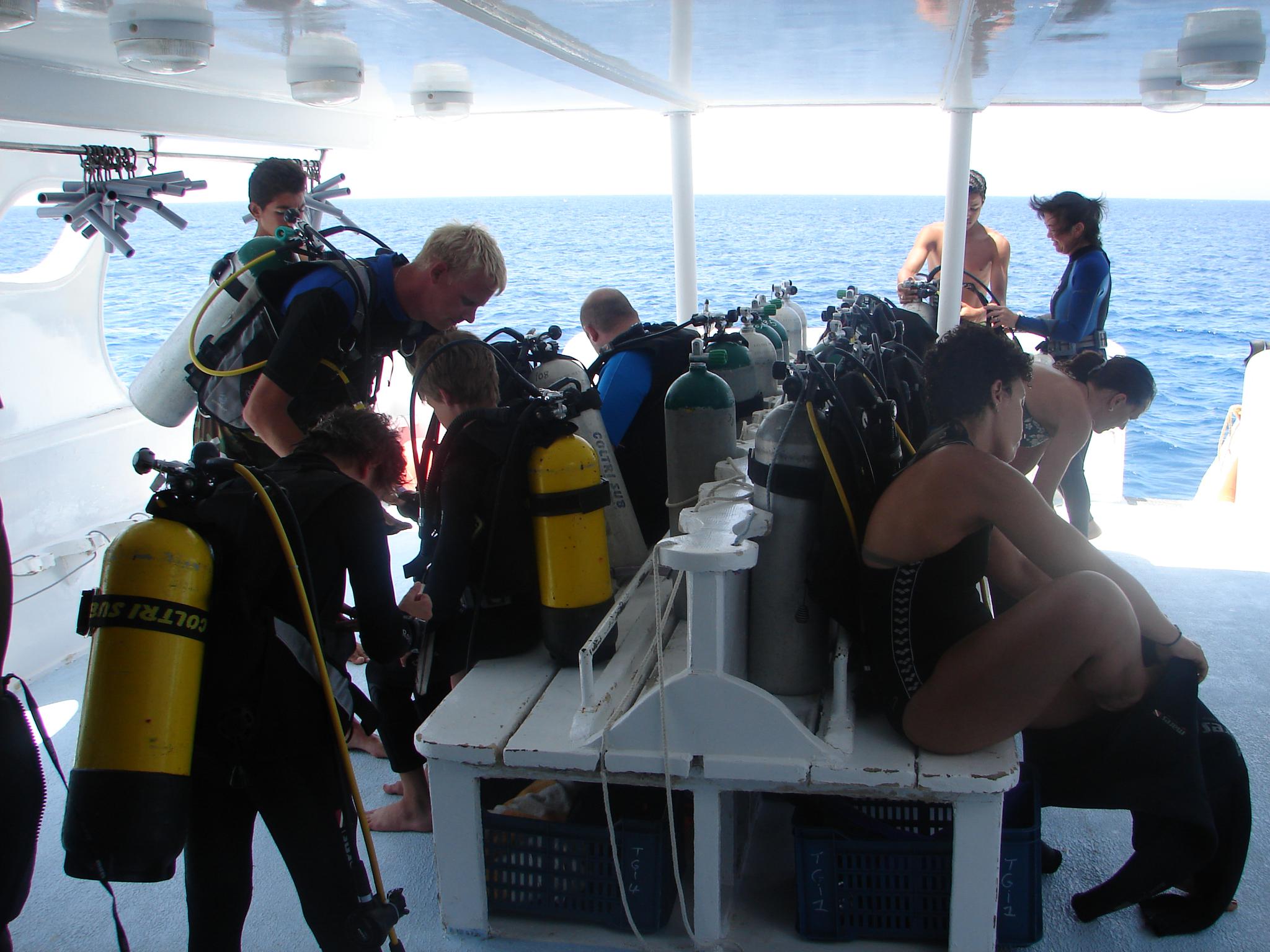 How many in Egypt have seen Marsa Alam? Yet for years it has been the buzz word among diving fanatics around the world. It means, among other things, considerably less underwater traffic than popular diving sites around Sharm El-Sheikh and Hurghada. It means healthy reefs crowded with virtually intact corals, hundreds of reef fish species, a multitude of pinnacles and drop-offs, caves and shipwrecks to explore -- and, last but not least, it also means sharks.
With visibility of up to 50 metres, 1,000 species of fish and over 200 of hard and soft corals, water temperature remaining at an all-year 18¡ to 26¡ Celsius, no wonder the Red Sea has attracted divers from around the world. And Marsa Alam, located some four hours south of Hurghada, is no doubt the latest gem in this treasure trove. Once a small fishing village 130 kilometres south of Qusseir, it is rapidly gaining popularity -- and, with its recently opened international airport, accessibility. The ultimate adventure for divers headed there remains, undoubtedly, a multi-day diving safari on live-aboard yachts that sail to the spectacular and pristine remote islands of Daedalus, Rocky and Zabargad, before heading to the two outer reef systems of Fury Shoal and St John's Reef.
Tour operators run the privately-owned commercial boats, with a mainly European diving clientele. If you own a boat, berthing arrangements can be made to accommodate all modes of contracts, long-term deals remaining the cheaper alternative. According to Harbour Master Captain Sherif Fawzy, who manages the Marina and all boat activity in Marsa Alam's Port Ghalib, the highest fee is LE400 per day for the larger yachts. A Caltex petrol fuelling station is currently under construction on the Marina quay, specifically for the benefit of the yachts, as one of the area's ambitions is to become the first stop for boats sailing into the Red Sea from the south -- especially since the number of diving boats from Sudan is expected to rise now that the entire area has come under the spotlight.
DIVE, DIVE, DIVE YOUR WAY, GENTLY OFF THE BOAT: There are 350 dive sites off the Red Sea coast, starting with Sharm El-Sheikh to the north, through Hurghada, Safaga and Qusseir, finally to Marsa Alam closer to the Sudanese border. In Marsa Alam alone, there are four marine parks providing the location with even cleaner water, a greater number of corals and bigger fish. While most foreign divers head straight to the marine parks, the sport of choice for many Egyptian and Arab yacht- owning businessmen remains snorkeling and diving at shallow depths -- it is in shallow water, after all, that light is most abundant, bringing to life all the colours of the reefs teeming with fish.
Another attraction offered to divers in Marsa Alam is its wrecks, the oldest of which dates back to the early 1800s. The strong currents that sometimes sweep across the sea down south, combined with the fact that the entire area has only but recently witnessed the development necessary for the accurate mapping of navigational waterways, have combined to give rise to a number of disasters in the past, the remains of which are still there. Today the mapping has been finalised, and local Red Sea boat sailors are assigned the job of navigating the boats, thus providing the local population with job opportunities. They know the area like the back of their hands.
ALDO: Aldo Bertagna is the name of the instructor who took me on my check-up dive. He is 41, from Turin, Italy, and has been living here and teaching people the skills of underwater bubble-making for the past 14 months. His transfer to Marsa Alam came through PADI (Professional Association of Diving Instructors) as he proceeded to turn diving into his bread and butter. The job, he says, is enough to make a living on, especially considering the commissions and the lack of opportunities for spending in Marsa Alam, save for the occasional trip to one of the hotels' shisha bars. Though evidently a blessing in disguise, the scarcity of non- aquatic activities at Marsa Alam leaves Aldo, for one, longing to see his current place of residence turn into "a mix between the extreme of Sharm [El-Sheikh]'s craziness and the extreme of the calm over here".
Keeping up with market demand, Aldo is learning German, hoping to address, in their native tongue, 90 per cent of all divers who visit.
THE PILGRIMAGE: Monika and Ilke are German sisters who first learned diving in Qusseir, where they received their PADI Open Water Diver Certification. Since that day four years ago, they have made a yearly come-back to the Red Sea, with over 40 dives to their name. "The Red Sea is more beautiful than any other," says Ilke. "This is a well- known fact." The boats are "fantastic", a delighted Monika adds, with "a super crew, super service, super luxury and cleanliness, delicious food and spectacular diving. And Egypt is so close!" she smiles, her rambling punctuated by shisha drags as she describes the boat she and Ilke disembarked only hours ago. Although Egypt has become more expensive, they say, it is still affordable.
Aldo, puffing furiously on his shisha, complains of soaring hotel prices affecting his livelihood. "In June of 2004 we issued 100 diving certificates following courses administered at the centre," he says. This year, however, rising hotel expenses leave less money to spend on diving. "We must find some form of balance between hotel expenses and diving; and since most tourists come here to dive, it would seem to me that this problem should be as much of a concern to the hotels as it is to us. Tourists will simply stop coming if they cannot afford to do what they came for."
This observation may be the reason why the majority of divers prefer boat accommodation. For a cost ranging from $600-$800, a diver can afford a week's stay aboard a luxury boat, on a full-board basis, an average of two dives per day, and the round-trip plane ticket, all inclusive.
Captain Fawzy confirms that the principal clients of the Marina are diving boats. On Wednesday night they return from their six-day journey out at sea. By Thursday of every week between March to November (the 40 weeks during which diving activity is in full swing), the Marina is littered with diving boats to full occupancy, which at the current stage of its development, means a little over 45 boats. All lined up and moored, the boats go on housing some 40 per cent of divers even after the trip has ended. They remain on deck, sunbathing, snorkeling and relaxing for the duration of the 24- hour flight ban, as no diver is allowed to board a plane until 24 hours have elapsed since his last dive. And why not when some of these super yachts reach a length of 35 metres, with sun deck and luxury interiors that may as well be found in a five-star hotel?
FLIRTING WITH THE BIG BOYS : "It is pure adrenaline," says Aldo, a sparkle of the eyes betraying his calm composure as the subject of sharks is brought up -- by none other than myself, of course. To my recurring questions about the possibility of bumping into one during our scheduled shore dive, his tone remained calm, reassuring: "Naaaa...we need to go further out at sea. They don't come that close. Sharks are shy creatures, remember?" Yeah right, I couldn't help but think, despite my full awareness that Aldo was absolutely right. But what is the voice of reason compared to that of fear? "Tell me the truth. What is to be expected? Sweet little reef sharks? Hammerhead schools perhaps?"
"Nope," Aldo finally replied, "Hammerheads stay deep. We would need to go to the marine parks for those. Longimanus, on the other hand, are far more curious," he added with a wink. Oh how delightful, I thought, feigning a smile, as I resisted a gnawing urge to admit that I did not find the thought amusing. "What do you mean curious? How curious? And wouldn't longimanus in Latin mean 'long hands'?" I asked with as much mastery of my shriveling dignity as my beating heart could sustain. The longimanus, confirmed Aldo, have longer pectoral fins, which they draw together under their body as they prepare for attack -- an event not once reported in Marsa Alam until the present day.
The curiosity of longimanus left even Aldo a trifle overexcited as he recounted his closest encounter with one: "We were making our safety stop in the blue. We spotted one, two, three, and before we knew it there were 10 longimanus turning around us. [My eyes widen in horror]. One of them pointed to my face with amazing focus, and came straight at me."
Someone call an ambulance: journalist on the verge of a heart attack.
"And then?" I managed to stammer as I discreetly checked Aldo for missing body parts.
He chuckled. "And then it swerved away about one metre from me and just disappeared."
So why not promote Marsa Alam as a shark spot on the international diving map? The answer is simply that despite increased shark presence in Marsa Alam (compared to Sharm El-Sheikh or Hurghada), it still does not qualify for the 80 per cent sighting chance required for its designation as a shark diving site. Between October and December, spotting a number of small reef sharks is practically a daily occurrence (with the possibility of spotting the bigger boys, like the longimanus, rising to one in every 10 dives). Yet beyond those few months, the chances of shark spotting remain as low as 30-40 per cent. According to Frank, manager of Extra Divers diving centre in Marsa Alam where Aldo is employed, not only does shark presence fall short of the criteria required to promote the area as a shark diving site, but the creatures themselves are decreasing as "the rich boats come and engage in illegal shark fishing in great numbers".
PLAYING BY THE RULES:
-Every dive must be preceded by a detailed briefing of the dive plan from entry to exit, accompanied by a map of the site to be explored, a listing of expected marine life and a revision of underwater communication signals. No diver is allowed to participate without having attended the briefing.
-A dive master must be present among every eight divers, increasing to two dive masters if the number of divers rises.
-No diver is allowed in the water without a computer showing depth, water temperature, decompression limit and safety stops.
-Only advanced divers with a minimum of 50 dives under their belts (PADI Advanced Open Water certification, CMAS Two Star and other equivalents required) are allowed in the marine parks of Daedalus, Zabargad, Rocky and Brothers Islands, as well as popular sites such as Elphinstone and all other sites reached by boats.
-No diver, regardless of experience and certification level, can skip a check-up dive on arrival.
-At a distance of approximately 50 km from the shore, Daedalus, Zabargad, Rocky and Brothers' islands all require a special permit for foreign divers due to their presence near Sudanese waters.
-There are three decompression chambers in and around Marsa Alam.
Add a comment