← Back to portfolio
My granny was a tuna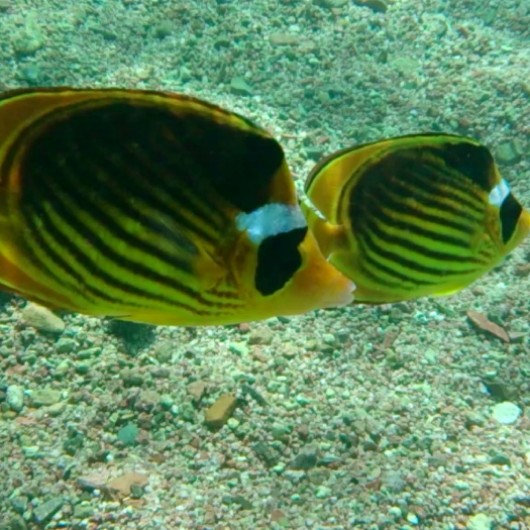 STOP THE BUS!
While my friend drove me to the bus station, and although I was fully engrossed in the delicate subject of our conversation, I could not lose sight of the time on the dashboard. Two o'clock was now four digital minutes away, and we were still drowned in downtown's cacophony of automobile marmalade. My bus! I can't miss this bus! Raising eyes to the sky I secretly implored: "please let me have this weekend, pleeeeease." Yes of course each trip is unique, every activity a blessing, but there was diving on this one, and if we made it, I would be able, in just a few hours, to sink once more under the surface of the Red Sea. Heaven awaits, come on, let's go, let's go, let's go!
At the foot of the Ramses Hilton, passengers stuffing luggage in the bellies of multi-coloured buses crowded the sight, and I soon realised it would be impossible to distinguish which route each vehicle was taking unless I resorted to more aggressive strategy. "Sharm!" I yelled out, "which one to Sharm?" A face reacted to my distress, bemoaning the fact, with sincere empathy, that my bus had just left, explaining that it was probably still making the Tahrir turn. My best bet, the saviour quickly added, was catching up with it at the following station before it makes it to the highway.
"Taxiiiiiiiiiiiiiiiii!!!!!" I shrieked, and a black-and-white cabbie screeched to a halt right before me. In I hopped, tossing my bags on the seat as I quickly explained to the driver that a full-fledged chase was in order and that he'd better step on it. It was all the prompting the man needed and, as I was hurled against the back of the seat in the sudden speed of his first gear, a sweet awareness calmed me with the hunch that I had the right partner on this one.
Abbassiya looms closer and I spot the very small station, immediately rolling down the window to throw the query about my bus to two employees sharing a cup of tea in the middle of Cairo's sweltering traffic. A nod towards the other side of the street was my answer, and there I saw it: my bus -- my beautiful, gorgeous, wonderful, adorable, smelly bus.
ROLL ON:
Too good to be true, I can't believe it. I have the window seat, and the one next to mine is empty. Praised be He who grants such joy.
It was not too difficult making myself comfortable: the notebook on my lap, earphones where they belong, eyes set on the desertscape rolling outside the window while music eased the forceps around my mind completely loose. A sense of abandon sank in, and my mind began to wade back in the shallows of my diving journey to Marsa Alam, much farther down the Red Sea coast, and the last area of underwater Egypt I had had the opportunity to explore. Sharm El-Sheikh had in recent times acquired the reputation, along with Hurghada, of having been spoilt by the mercilessness of overactivity and now, a whole decade after my first diving days there, it was going to be either a joyful re-encounter or a mournful confirmation of fact. The time had come to return to the initial launch pad of scuba diving in the country, and for the "before" and "after" assessment following 15 years of Sharm's unstoppable development.
My Guide to the Red Sea ReefFishes was laid to rest upon my knee as we emerged from the Ahmed Hamdi Tunnel, that miraculous stretch of subterranean road connecting the peninsula to the mainland under the Suez Canal, that last obstacle before one comes out "on the other side", to the full embrace of Sinai's energy. Incredible as it sounds, no amount of travelling over the years has ever removed from the initial relief one experiences upon seeing the Sinai desert and its scorching sun. Every time, without fail, it is like an ablution, a purification. The air is peaceful, the heat intense, and the karma imbibed with thousands of years of human bravery and toil. It does not matter how many cults and sub-cults seek Sinai's arid peaks in their pilgrimage, and I won't even get into the theories constructed around Mount Moses, celestial connections, triangular forces, or any amount of spiritual projection -- all one needs to do is look at the Red Sea mountains in the fiery splendour of their copper harshness, and know that they were once completely submerged in an ocean without horizon before rearing their heights to become a whole people's maze for years after wandering years.
LUXE, CALME ET VOLUPTE:
Of course it would have looked far more appropriate if the black limousine awaiting yours truly had picked her up from the airport, rather than the bus station; yet it was no damage that a graceful air and a dignified gait could not repair. Once again in the back seat, this time my spirit is lifted by the promise of a good pampering as I spot a moist towel in its little sealed bag, placed there just for my refreshment. I smile gratefully while patting the cool cloth against my face, musing to myself that this promised to be one swell trip.
Now, let me just state blankly that a life of trotting around the globe in a diplomatic family has removed much of my ability to be impressed, but this was something else. This was not even Four Seasons Cairo quality, this was far beyond -- it was the Four Seasons Resort Sharm El-Sheikh, and oh did I feel more privileged than anyone else in all of the City of Peace.
Forget the mind-blowing view from the terrace, forget the luxury of the bathroom, forget the service of the in- house concierge, or the blissful treatments promised by a spa that, mind you, uses chocolate among its ingredients of bliss. These people have got it so right, and yet it is still far "wholler" than that. It's the little cotton cloth placed by the bed to protect your warm, sleepy feet from the bite of the cool marble; it's the light in the smiles of those who greet you along the labyrinthine landscape of aromatic blossoms and gargling water fountains; it's the excellence of the lighting, the grace of the architecture, the persuasive and permeating call around every corner for complete hedonistic abandon; it's the red of the apples, the orange of the butterfly wings, the yellow of the elegant flower arrangement above your dresser. It is not just the beach attendant's offer to carry your bag to your chaise-longue or wipe your sunglasses for you. You do not need to accept the kindness of his proposition, for a good feeling results simply from the way that he offers, in the sincerity of his smile and the politeness of his unobtrusive suggestion. It is, to put it in a nutshell, the music playing out of underwater speakers in the pool for the pleasure of your submerged ears. Baudelaire said it once and no one can ever say it better than the French poet. This, was simply "luxe, calme et volupté".
BUBBLE ME UP:
"I'm going diving, tralalalalalala, diving, diving, diving! Yiiiiiieeepppeeeeee!!" I couldn't help but murmur under my breath as the golf cart picked me up while on its housekeeping tour. I wondered if it had been audible to the driver (who must have a special license to operate those miniature cars), though in all honesty, I couldn't care less. There was no shame, I thought, in being caught giggling, when everything is done precisely to ease you into that rare state where you can externally vocalise a giggle addressed to yourself, in public.
At a table by the diving centre are seated a couple and the instructor. Two small piles of papers had been laid before them and the third was ready whenever the third diver was. The third diver, was me -- and I certainly did not like the look of what seemed to display many resemblances to a test, with those pencils scattered on the table and all. As I sat down and greeted them, I noticed something horrific in the instructor's hand: a decompression table. Uh-oh, someone is not passing this test. I can smell it.
She is Austrian, with a very comforting attitude and eyes where glows a love of life. She explained that before the practical exercises of the Refreshment Dive (required of any diver who has not gone under in more than six months, however thick his Log Book), we are to take a quiz to revise our theoretical knowledge, a practice that is rare, if at all present, among diving centres, but one which, when applied, promises high levels of safety. If you are as bad at table calculations as most of our assembled party, fear not, for the instructor is merciful and understanding. Everybody knows that decompression tables became obsolete with the advent of wrist computers (which digitally perform all the calculations), and everybody includes the guys down at Sinai Blues, the resort's diving centre. It is not so much a formality, since the questions must indeed be answered and wrong guesses explained, but it is not the guillotine either.
Hop, hop hop, we were ready to gear up, delighted with the tip that we would need to assemble our equipment solely this first time, as an extension of the skill refreshment procedure, but that the crew would have it all ready for slipping into on all our next dives. "Pamper me softly," and out came another giggle.
AQUALUNG:
A house reef is ordinarily not too amazing a sight to behold. By definition, it is frequented by the divers and snorkellers residing at the facility. Not in the way of much current due to being located in sheltered water, a house reef is also usually the victim of many a novice diver's trials with buoyancy during Open Water courses, resulting in accidental collisions with the reef and relative infringement upon its health. Sinai Blues are lucky though, for under their little stretch of sea is a very balanced and populous reef, teeming with trumpet fish, blue spotted rays, all kinds of wrasses and groupers, as well as a diverse wealth of the fish provided by any self- respecting Red Sea reef: picasso, butterfly, half-chrome, parrot, lion, clown, goat, they were everywhere. Not to mention the anthias, which undulate gracefully by in abundant quantities.
The rule of thumb dictates that refreshment dives be made in relatively shallow depths, for obvious reasons, not least of which is a semi-experienced diver's own sense of comfort and safety. As the ease of being underwater gives way to the initial nervousness -- much like sitting behind the wheel of a car after a six-month driving lapse -- shallower depths will also allow for extended enjoyment over a longer dive, considering that air consumption is always higher on refreshment dives and that less air becomes available the deeper one goes. In fact, many divers (and especially among the more experienced) will opt for the "euphoria of the shallows" -- resulting from abundant light, and therefore the full spectrum of colours, not to mention warmer temperatures -- rather than the bluer, colder, and deeper dives.
A giant stride entry from the jetty and down we sank, to the blue spotted rays tucked non-chalantly right underneath. The thrill of that first drag of compressed air is always so crisp, the sound it makes so surreal. I turn on my back and behold the surface from 10 metres under, the rays of the sun piercing its dance with the hundreds of opaque columns in which we wade. Visibility is perfect. The colours, sci-fi.
WOODHOUSE REEF:
It is 3pm and our gear is ready on the zodiac which will take us out in the open sea for a rib dive. My diving companions and I are now ready for underwater somersaults. As the skipper on our double-engined speed devil extends a courteous hand to help us aboard, I notice an ice-box of water bottles and some folded towels ready to greet us upon our exit from the dive. The tanks are tucked properly, and on we embark upon the swelling waves taking us away from the shore. As those who sat on the edges grabbed harder onto the ropes for balance, the "captain of our ship" presses gas in a brilliant attempt at giving us the full nine yards of excitement. The wind blew harder now, the waves grew higher, and our zodiac plowed the surface with increasing speed; it would sink after pointbreak, lower and lower, only to rise atop the crest of the next wave, our party releasing an uncontrollable warning of the drop to come as on a roller coaster. The scream would build up every time:
"oooooooooooaaaaaaaaAAAAAAAAAAAAAAAAAAA!!!", while we grabbed on to anything or anyone for balance with every soaring flight of the zodiac, before it landed on the water with a spraying splash.
"More, more!" I pleaded in unapologetic delight, unable to contain what I have no doubt was a grin of sheer ecstasy, but the Woodhouse Reef was in sight now, and engines came to a halt. A quick buddy check once we were all geared up, and back we toppled from the edge and into the water.
I thought visibility had been great in the morning! But we could now see a good 30 metres ahead in this spot -- it was like the whole reef was inside a crystal ball, and us along with it. Huge Gorgonian fans were the big surprise of this dive; huge, simply huge black and red fans jotted out of the reef and, not before long, one of the largest hump-head wrasses (Napoleon fish, as commonly called) I have ever seen swims lazily towards us in customary curiosity. No boiled eggs for you honey, this is a bad habit . It stares at us; we stare back. "Is that all you can do," it seemed to say with its big unintelligent eyes, "make me laugh, come ooooon".
RAS NASRANI:
This is one diving location that will always have a special place in my heart. Not only must I meet dolphins every time I go there, but also, about eight years ago, I had seen my very first shark, a black tip, graceful, majestic, and completely indifferent to us as it cruised arrogantly by. My heart felt like it had stopped, definitely skipped a beat, and eyes widened as if to visually absorb this much respected creature of beauty as fully as physically possible. The drop-off at Ras Nasrani, and the relatively strong currents that characterise the spot provide it with higher chances for large pelagic spottings. This time, however, a huge manta ray was our gift from the sea, as it glided by with the elegance of a dancer. Keep looking out to the open blue every once in a while for the bigger boys that might sail by, if you can take your eyes off the underwater mountain teeming with an incredible variety of corals.
Current means the reef remains healthy as bacteria is forcibly swept away and nutrition arrives to all the components of the food chain. It also means you can enjoy a nice and easy drift dive, exerting minimum effort and therefore consuming minimum air. On this particular spot you are guaranteed to sight large jacks and tunas, possibly barracudas if you are lucky, and the occasional turtle might swim sweetly by.
No matter what specifics may bless your personal dive, one thing about Ras Nasrani has taken every diver by surprise: the sheer abundance of every kind of hard and soft corals, of every colour, including black, red, green, purple, fuschia and blue; not an inch is bare, it is all one block of coral. It is an impossible sight to describe, especially considering that some of them grow at a rate of one millimetre every 100 years. You just want to hover there a few moments, and attempt to grasp how much history can be written in the veins of the immense brain coral you behold.
There are such temples, the sea teaches, as no man has ever dared construct.
Add a comment