Gold is green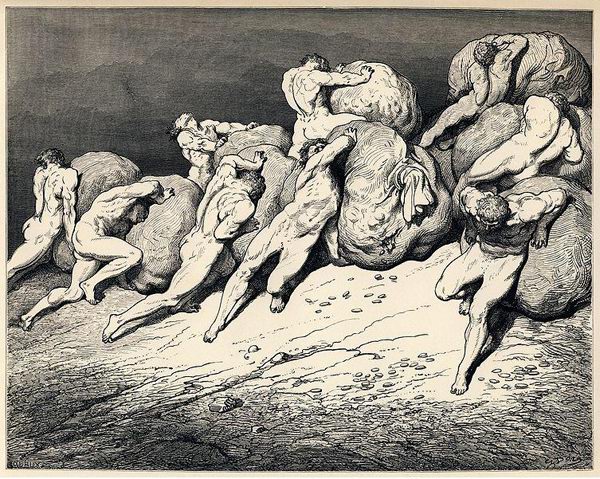 The opening session began, speaker after distinguished speaker extrapolating the interwoven sub-themes and creating the challenging tapestry that the conference aimed to tackle: "Exploring Win-Win Strategies for Sustainable Local Development: A MENA Initiative on Poverty-Environment Mainstreaming." Dante Alighieri suddenly pops into my mind.
Somewhere in his 14th-century Divina Commedia, in one of the nine circles of Hell, souls are tormented for transgressions similar to those addressed by the Hanns Seidel Foundation's conference, held at the American University in Cairo's new campus on 28-30 April. The terminology has, of course, changed over time, yet identical practices flow through human veins. Which circle was it again?
"... I saw multitudes
to every side of me; their howls were loud
while, wheeling weights, they used their chests to push.
They struck against each other; at that point,
each turned around and, wheeling back those weights,
cried out: 'Why do you hoard? Why do you squander?'"
The Fourth Circle -- that's where, in Dante's vision, those who took everything and gave nothing dwelled alongside those who consumed beyond rational need. In today's world, a yellow tape labelled "Dante's Fourth Circle of Hell" might be used to wrap the entire globe: mankind's flaw of dissipation is now compounded with a 21st-century conception of happiness as being synonymous with consumption. Any far-sighted perception of an existence that aims to cater for generations yet unborn is seen as equivalent to angelic, and hence not to human, responsibility.
The Hanns Seidel Foundation, however, begs to differ. Backed by the practical support of sustainable development efforts in Egypt since 1978, in partnership with the Egyptian Ministry of Information, the German Foundation is currently investing its efforts in two key areas: environmental protection and public participation.
The new online forum (www.winwininitiative.net), launched at the conference organised by the foundation in Cairo, presents an opportunity to build contacts, communication and know-how. By promoting activities that observe both human and environmental interests in sustainable development, and as part of its concern to convert the mainstreaming of poverty and environmental issues in development cooperation into concrete gains, the Win-Win Initiative aims to create an interactive and dynamic network of innovative local practitioners and researchers aiming to improve lives and safeguard the environment in the Middle East and North Africa (MENA) region.
The aim of the conference itself was to explore both the context and the content of poverty-environment mainstreaming efforts in development cooperation, including a number of reality-tested win-win strategies for sustainable local development in the MENA region. The Win-Win Initiative is an extension of the foundation's concept of development policy, which seeks to strengthen social, political, cultural and natural factors leading to the promotion of democratic structures as part of its efforts to foster democracy, peace and development.
According to the initiative, "a drawback of the concept of poverty-environment mainstreaming in development cooperation today is that it is both very ambitious and vague. Much policy advice available today focuses on input and technical processes, rather than on objectives and outcomes on the ground. So far, there may have been too much untested top-down guidance, too few and geographically dispersed successful experiences, and too little knowledge sharing to be able to speak of an effective poverty-environment mainstreaming movement."
To these environmental and developmental challenges, Hanaa Kheireddin, executive director and director of research at the Egyptian Centre for Economic Studies (ECES) and professor of economics at Cairo University's Faculty of Economics and Political Science, adds that "political will is crucial, as local government has no clear notion of environmental awareness."
Speaking to Al-Ahram Weekly, Kheireddin stressed that the "biggest polluter is the public sector", pointing to the erosion of green spaces in Cairo and their replacement with "ugly construction work", as well as to the pollution of the Nile as cases in point.
In his keynote address, Christian Ruck, speaker of the German coalition parties the Christian Democratic Union and the Christian Social Union (CDU/CSU) on development cooperation in Germany, quoted US politician Tip O'Neill's words, "all politics is local," to emphasise a core notion facing sustainable development. This is highlighted in the fact that "everybody lives and works at a local level," and therefore no change can come about if it is not initiated on a local level.
Ruck elaborated by reminding the audience of the United Nations Conference on Environment and Development, known as the Earth Summit, held in Rio nearly 20 years ago, which was entirely dedicated to sustainability. Although some awareness regarding sustainable development and environmental conservation has been achieved since the Rio Summit, this remains mostly on the abstract level, as something that should take place and is often discussed, yet whose practical implementation remains grossly neglected.
"More convincing still needs to be done," Ruck asserted. "Although 99 per cent of all scientific findings prove that our lives are not sustainable [...] this is still not obvious to people, despite rules and regulations, or the individual efforts scattered around the world."
Kheireddin also believes that "changing the mindset of adults is very difficult" and that only by "enforcing penalties on transgressors can environmental regulations be observed." In societies where corruption is rampant and "gifts" open many doors, however, penalties are easily avoided by those who can afford to incur them in the first place.
However, she says, "you can make corruption difficult by paying implementers well. The tax system, for example, is now much improved because employees' salaries have been raised and corruption curbed. Most corruption is petty corruption. If employees are well selected and well paid, penalties will be enforced," she adds.
Yet the real long-term solution, says Kheireddin, lies in educating young people. "Both homes and schools should prioritise teaching young minds about the dangers of squandering nature's resources, as well as the importance of sustainable living for all."
A partner of the Win-Win Initiative is the Wadi Environmental Science Centre (WESC), founded in 2002 and directed by Lynn Freiji, a staunch advocate of community mobilisation. In her efforts to educate the young on the vital importance of sustainable living, Freiji's NGO today trains and empowers schoolteachers to integrate environmental education into curricula and create a platform to encourage students to become more informed and responsible citizens.
This the WESC achieves through daily field trips where a hands-on approach to, and a holistic comprehension of, environmental and science education is implemented. Green projects are carried out by students, and technologies supporting sustainability are demonstrated as viable alternatives to ordinary technologies. Over the past seven years, WESC's achievements -- despite the ongoing challenge of funding -- have reached 55,000 students from over 30 schools, trained over 400 teachers from four different governorates and extended to Belbeis and Abul-Numros, as well as created employment and fostered the environmental education of thousands of students.
Kheireddin asserts that the younger the child, the better the results in bringing about the cultural changes that create a society inculcated with the need for environmental protection and poverty alleviation. "Most homes no longer provide the education that they should, as parents are too busy to raise their children with core principles that guide their future living. The role of schools, therefore, as well as the media and even the Friday sermon in propagating the right message, is an increasingly urgent one," she states.
In a society where religious belief is woven into everyday life, the message could easily reach the mass of the population as the fundamentals of religious faith advocate the preservation of the Earth's bounties and prohibit the squandering of its resources.
Turkish Islamic thinker and reformist M. Fethullah Gullen writes that "flowing to the future like a rapid flood full of energy and vitality, and sometimes resembling a dazzling garden, the natural world is like a book to study, an exhibition to behold, and a trust from which we can benefit. We are responsible for studying the meaning and content of this trust so that we and future generations may benefit from it. If we wish, we can call this relationship 'science'."
Surely, dedicating Friday sermons to environmental awareness and poverty alleviation would be far more aligned with the essence of religion than "discussing whether or not it is a sin for a woman to pluck her eyebrows", laments Kheireddin, who has been "appalled at such squandering of this weekly opportunity to truly effect positive change in society."
Speaking at the opening session of the conference, German Ambassador to Egypt Michael Bock noted that the foundation has chosen "one of the most complicated issues because it is interrelated with every other aspect of life and crucial for the future of mankind, just like nuclear disarmament."
Bock stressed the "need to accelerate efforts for poverty alleviation" and pointed to the need to simplify terminology if the general public is to become engaged in this all- encompassing responsibility. Grassroots projects addressing the neediest strata of society are now more vital than ever, as "the poor depend on the environment for their livelihood and poverty is the environment's worst problem," stated Wolfgang Mayer, resident representative of the Hanns Seidel Foundation in Egypt. The "trickle effect" of overpopulation on individual conduct was also a key element in shaping destructive personal practices affecting the environment, he said.
The role of individuals in shaping the future was frequently highlighted during the conference's keynote addresses. Decentralisation and the carrying out of multiple projects in various areas simultaneously, aiming to form a web of developmental activity, could ultimately generate enough momentum to snowball into larger benefits for each target community.
A case in point is the Hanns Seidel Habu Project in Luxor, which aims to enhance public participation in upgrading the village through identifying development visions for Madinat Habu in dialogue with representatives of the local community, the Supreme Council of Antiquities, the Tourism Department, and the governor. A survey of the houses and the urban space is also being prepared, serving as a basis for an action plan to promote Madinat Habu as an ecological village and presenting potential clean-energy technologies -- like biogas units and solar water heaters -- to be used in the village.
Most interesting of all the project's inputs in the context of community empowerment and development are the village representatives' requirements, which include legal title being given to property, the resolution of the conflict with the Antiquities Administration about house-renovation procedures, the improvement of infrastructure and public services, the establishment of a centre for traditional handicrafts, the transformation of the drainage canal into an environmentally friendly area, and the preservation of the architectural style of the village.
While ecotourism has been gaining much ground in Egypt and eco-lodges are sprouting up all over the country's tourism map, urban projects like the Muqattam Recycling School are also providing win-win models that safeguard both the environment and the livelihoods of local communities in an urban setting.
Rhetorical question: is it safer to assume that most of the estimated 12,000 tons of municipal trash produced in Cairo daily is produced by the rich or by the poor?
"The poor don't throw anything away," affirms Kheireddin. While the rich are getting richer, it is the poor that are getting smarter -- for the sustainable future of the planet lies in the practice of biting off only as much as one can, and need, chew. If not, it is the Fourth Circle of Hell for all of us.
When the United Nations declared the year 2010 to be the International Year of Biodiversity, this is the message it addressed to the world's population: "you are an integral part of nature; your fate is tightly linked with biodiversity, the huge variety of other animals and plants, the places they live and their surrounding environments. You rely on this diversity of life to provide you with the food, fuel, medicine and other essentials you simply cannot live without."
"Yet this rich diversity is being lost at a greatly accelerated rate because of human activities. People all over the world are working to safeguard this irreplaceable natural wealth. This is vital for current and future human wellbeing. Now is the time to act."
The "you" in the lines above refers to every individual reading this article, not to "someone else." Everything begins at home; everything begins with you.