Ghosts, human mutations and vicious Egyptians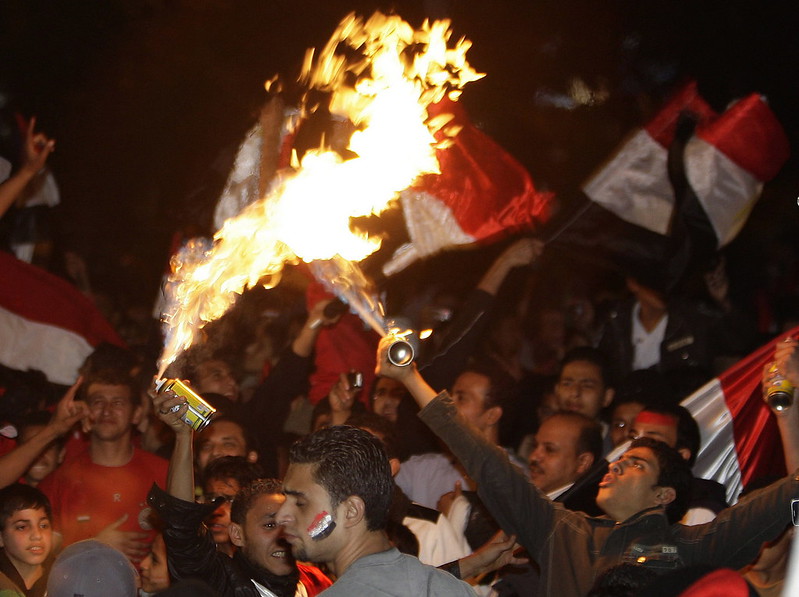 Days after the death of pop icon Michael Jackson this summer, clips purporting to having captured the celebrity's ghost wandering around his Neverland mansion had flooded YouTube. These clips were among the thousands of engineered media files posted online by Jackson's fans, his adversaries, and by the ever-increasing multitudes of a specific brand of cybergeeks whose chosen raison d'être and single means of existential self-assurance is uploading content on the Internet to solicit comments from other users. Needless to mention, the more inciting, disconcerting or exclusive is the content, the larger the quantity of the comments received.
Yet all that is posted on the Internet is not as harmless as "evidence" of talking animals, mutating humans and the ghosts of pop stars. Before the 14 November play-off held in Cairo between Egypt and Algeria, an online frenzy crossing all established lines of decency and sportive spirit was already ranging between supporters of both teams.
In reaction to the mounting tension, rising Egyptian-Algerian actor and singer Ahmed Mekki posted his song Fou'o (Wake Up) online, stating his sentiments on the militant brand of support displayed by both parties in anticipation of the play-off. His lyrics express: "If you had done half of what you are doing to each other when America invaded Iraq, it would not have been able to raid this precious land\If you unite your voices, they will become deafening\I read the newspapers, watched YouTube and was disheartened… posted on YouTube is not support, it is war\Don't you allow fanaticism to deface your nation, the Arab nation, your nation and mine…you are two brothers, WAKE UP!"
Following Egypt's 2-0 victory over Algeria in the 14 November match, the rumors spread by the highly circulated national daily Algerian-based Ech-Chorouk newspaper of an Egyptian attack on the Algerian team allegedly resulting in several casualties were denied by the Algerian ambassador in Cairo; but the damage had already been done. Following the match played in Sudan's Omdurman Stadium, in which the Algerians scored the goal qualifying them to the 2010 World Cup, an avalanche of YouTube clips posted by Algerian fans aimed to demonstrate the "massacre of the Algerian football team by Egyptian fanatics", although the team and fans assaulted in Omdurman hailed from Egypt, not Algeria.
Much less disseminated yet equally disturbing is the online documentation of the destruction of Egyptian commercial outlets in Algeria by hard-core fans, prior to the 18 November match. Algerian comments to such clips range from highly abusive anti-Egyptian sentiments in support of the vandals who, in one clip, completely demolished the Djezzy Orascom store, to pleas condemning the brand of fanaticism that leads to such unbridled rage.
In the meantime, Ech-Chorouk ran a story this week titled "Echorouk blows up the Egyptian media at home" which wrote: "Despite a large campaign of defamation launched by the Egyptian media […] against the Algerian people, their voices fell on deaf ears in comparison with Echorouk's moderate and objective intervention". Quoted from Ech-Chorouk's online edition, however, is the following: "helpless [Algerian] students sought help from the Egyptian security forces… they've been told 'We can protect you from death but not from insults and attacks'." Another story reads: "Echorouk received Sunday a number of phone calls from Algerians residing in Egypt who have been trapped by barbarous Egyptians."
Petitions requesting the FIFA disqualify Algeria from the 2010 World Cup are being forwarded by email and on cell phones in Egypt, while on Facebook, Egyptian users have been updating their status with highly emotional pleas for vengeance and solidarity with the compatriots whose dignity and safety were assaulted in Omdurman and new groups rallying support are being formed every day: "Together Against Algeria" (2440 members); "Disqualify Algeria" (35,519 members); "Urgent Action" (1300 members pleading "if any one [has] videos about what happened in Sudan by Algerians... Forward this to all your friends")
Among the 74 links posted on this last group alone is singer Wadie El-Safi's tribute to the land Azeema Ya Masr (Grand You Are, Egypt) — the kind of song regularly played on TV to stir patriotic sentiments following a great achievement, on the National Day and on the yearly commemoration of the 6 October War. Speaking Fou'o's last words, Mekki's voice is heard as if streaming from a live coverage on television, alluding to the frenzy consuming both countries: "A message to every celebrity and media person, in Egypt or in Algeria, who fuels the rift between the two nations to increase his popularity at home: I have no respect for you."
Photo by Muhammad Ghafari 
https://www.flickr.com/photos/70225554@N00/4105521328/