← Back to portfolio
Empire of the senses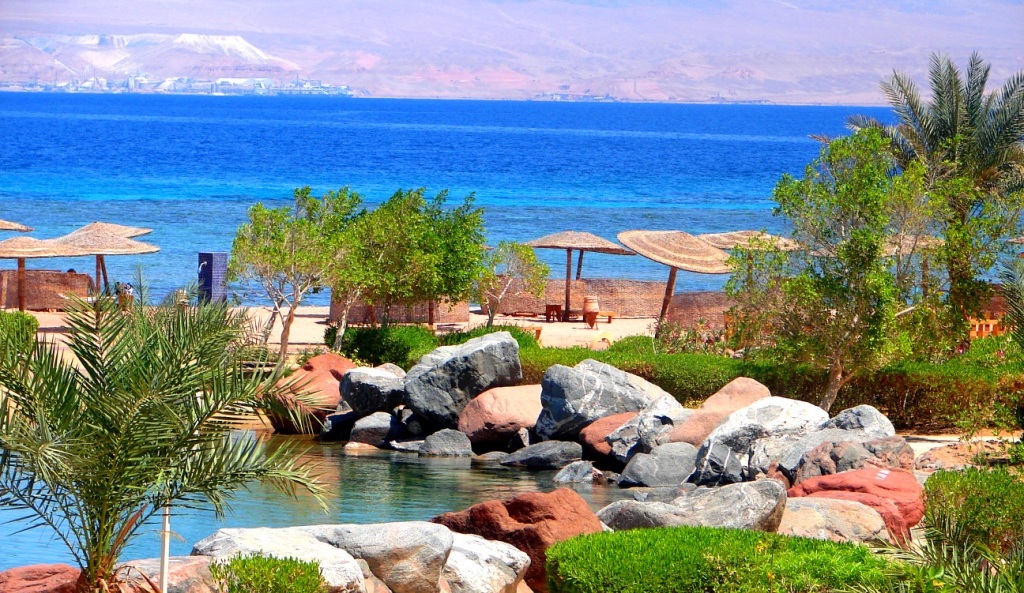 Birds flyin' high you know how I feel/Sun in the sky you know how I feel/Breeze driftin' on by you know how I feel/It's a new dawn it's a new day it's a new life for me/And I'm feeling good -- Nina Simone
Never, ever, miss the opportunity to travel to Taba via land route if you have a choice -- it's only about 400km from Cairo. This last gem on Egypt's Sinai Peninsula, discreetly tucked away at the far end of the Eastern border, offering a fitting closure to the string of legendary towns and resorts dotting the Egyptian Red Sea coast, reveals itself only after a titillating drive through the magnificence of an unrivalled landscape.
All packed up and chirping with excitement at the thought of another encounter with Sinai's land of rugged splendour, we set out on the road in the wee hours of the morning -- a spectacular daybreak cast its rosy web across the expanse of an immaculately clear sky. This was no ordinary journey. It was our first venture outside of Cairo following the glorious 25 January Revolution which, by overthrowing decades of oppression and tyranny, had restored to every Egyptian a long-lost attachment to this ancient and blessed homeland. Just as the air that we breathed in Tahrir Square every day had permeated our lungs with an exploding sense of freedom and dignity, the road now stretching before us lit by the rising sun seemed to open up like the path of an entire nation at the break of a new dawn, a new day, a new life, awaiting discovery.
PATIENCE, MY TINSEL ANGEL: As the hours passed, the Red Sea Mountain Range donned alternating costumes; from a limestone composition, chiselled by the winds of time into fantastical shapes draped by the spotless fabric of sand dunes. The mountains were growing increasingly taller, their colour progressively deeper, their consistency gaining jagged fierceness, and their presence ever more breathtakingly silencing. Soon, we were utterly dwarfed by their flawless majesty. As the snaking road undulated in a schism between the mountains' embrace, the sky was no longer visible and we were ultimately engulfed in overlapping hues of the eminent rocky towers. Now they were copper red; suddenly they turned a jade green; then an inexplicable plunge into coal black, white veins running across like nerve ends into a mass of living flesh.
Eyes behold what the tongue is not endowed to convert into meaning.
And suddenly, appearing at the end of this unfolding scroll of seemingly rocky infinity, a postcard vision nestled between the blue frame of sea and sky. Man-made structures reared their tops by the seafront -- bright, joyful, welcoming, happy. Orange, even! What is this? The sight had no resemblance to what I remembered from my last visit to Taba about 20 years ago. Of all the charming towns on the Sinai Peninsula, none had seemed as emotionally inaccessible as Taba did in the past, nor as dull. Not to mention that the only available accommodation was one single lonely hotel standing desolately by the edge of the beach like an overgrown child who'd lost his mother. And so had Taba remained, aloof and unexciting, until a turn of events best described as the "Orascom makeover" unleashed the destination's hitherto untapped potential with the creation of Taba Heights -- the good things that came to those who had waited.
Located on the northernmost tip of the Gulf of Aqaba, and covering 4.3 million square metres of land, Taba Heights is a veritable world within a world; a splash of liveliness, harmony and colour erected on the palm of unblemished natural exquisiteness.
THE DANCE IN ALL MUSIC: Despite originating worlds apart, the Tango, Troika and Foxtrot all share one common denominator: their tunes connect your ears to your legs, sending waves through your body that urge you to celebrate the receptiveness of your senses and the mobility of your limbs, however the dance steps may go. At Taba Heights, the philosophy is not much different. The birthplace of an activity or a cuisine is of no importance -- the emphasis is on the universality of its attractiveness, rendering, when all is said and done, all origins of equal merit. The Heights are not a theme resort showcasing traditional Egyptian lore, dishes or culture; they are rather an Egyptian endeavour honouring the merit in every culture by presenting the diversity that enriches humanity with the entire spectrum of sensations, flavours and diversions, all served with the proverbial warmth and generosity pulsing at the core of local hospitality.
Of equally little importance is the location of any particular restaurant you may wish to sample. First of all, transportation throughout Taba Heights is complementary; second, the Dine Around programme means you can select among 14 restaurants regardless of your hotel of residence. Do yourself a favour and try the InterContinental's Thai restaurant, the Bird Cage. Let it be said before anything else that the InterContinental has its very own herb garden where chefs freshly handpick their green ingredients. No, no, wait, there's more: music is played for the herbs, classical in the morning and jazz in the evening if I remember correctly. Why wasn't I born a mint leaf to do nothing under the sun and the stars but happily grow a little every day to the tunes of Louis Armstrong? Compared to that herb garden, our existence is a sorry one indeed.
Back to the Bird Cage where my husband, son and I savoured our first meal at Taba Heights. Have you ever undergone a culinary experience that managed to raise your ceiling of olfactory and gustatory appreciation to the point where you, well, simply lost it? Yassine, my 11-year- old, automatically started digging into the plate of noodles that landed before him as he would fries from a fast-food chain. But then, he stopped. He looked at us. Grinned. Started giggling. Then pouted his lips, slowly and deliberately stating: "luveley". Before we could respond, a smile barely having had the time to emerge on our faces, he repeated: "lu-hu-v-l- hey". And again, "luuuuuuuhvley".
By that time, we were shaking with laughter while he was oblivious to anything but the flavour in his mouth. He did not budge a muscle except to pout more and release increasingly stretched variations of the word, his head occasionally rolling this way or that, his eyes, smaller and smaller, expressing nothing but sheer abandon to the taste of his noodles. The final blow which had tears streaming down our faces was a seriously high-pitched finale, like a rock star sealing a ballad: luuuuvley!" Just imagine what our more sophisticated dishes did to our more sophisticated palates. What a goofy night at the Bird Cage; culinary paradise.
OF FORM AND CONTENT: Two -- not one, but two -- of Taba Heights' five-star hotels are designed by world-renowned architect Michael Graves, also known as one of The New York Five. The hotels are the InterContinental and the Hyatt Regency which share every possible shade of yellow, orange and red on their façades and interiors. Even if I weren't married to an architect, I would have noticed the grace of the hotels' designs and the unmistakable attention to detail revealing brilliant and beautiful ideas around every corner. Although the Hyatt is more clearly reflective of the style found in traditional Egyptian villages, the InterContinental (which provides five special rooms for the disabled) also incorporates facets reinterpreting time-honoured local construction practices.
The Marriott Beach Resort may not be Graves's brainchild, but it is nonetheless impressively laid out based on an ingenious architectural design maximising the number of rooms with sea view. The only way we could have been given any more sea view would have been with a tent set on the sand itself. The afternoon coffee we enjoyed on our terrace afforded us a view of the hammocks tied between palm trees by the beach, gently swaying in the breeze blowing from the Gulf of Aqaba. At such moments, we knew we shared the same air as every other couple also sipping their afternoon coffee by the beach in Jordan and Saudi Arabia, the two sister countries we could see right from our terrace.
True, I did not try the Marriott's Arabian marble steam room, but I tried its waterslide -- more times than it would be proper to mention. Suffice to say that my son and I had to form some kind of deal regarding that subject. Even from the pool, the ecological edge of the Marriott's values was evident as gardens and flowers attracted a multitude of birds all around us, whose chirping was the accompanying soundtrack to this heavenly stay. Then again, the entire Taba Heights resort is environmentally conscious with its very own recycling centre where plastic bottle tops, for example, are recycled into coat hangers.
I leave the Sofitel for last among the four standing five-star hotels at Taba Heights because it completely blew my mind. Somehow with utmost harmony the interior perfectly succeeds in juxtaposing leitmotifs inspired from Morocco, Ancient Egypt and Andalusia without the slightest incoherence. It is a genuine setting for a fairy tale, with columns, sacred lakes and latticed tiles bathing in soft lighting and cooled by naturally circulating air. Gorgeous, sumptuous and creative, the Sofitel truly celebrates heritage by amalgamating and synthesising the function and exquisiteness found in an assortment of architectural traditions, all presented in unison like the separate squares on a single chocolate bar.
Luxury and sophistication are present in every aspect of the Heights' five-star hotels, but exaggerated opulence has thankfully been avoided to maintain a healthy approach to comfort and style without slipping into distasteful excesses. The underlying philosophy is rather feng shui, the mood is serene and the aesthetics top- drawer. Moving down a notch on the star system, but remaining nonetheless in the same zone of quality, the Three Corners Al-Wekala Golf Resort is Taba Height's four-star boutique hotel situated in the centre of the uptown village surrounded by restaurants, pubs and coffeehouses where tourists of all nationalities can mix and mingle on an open-air dance stage or behind a karaoke mic for some good ol' festive- release-induced giddiness.
EVERYBODY PLANT A TEE: I am planned by John Stanford; I measure 6,450 metres; I offer challenging shots over lakes and perfect greens with elevation ranges from sea level up to 70m. What am I?
As every Taba Heights guest, a one-time exclusive invitation was courteously extended to us to experience golf free of charge for one hour. We were offered two choices (so archetypal of life): We could spend an hour touring around Taba Heights' professional 18-hole PGA- designed championship golf course in a caddy cart like perfectly beatified bums, or we could grace said course with our presence to receive our first ever golfing session. We are no milquetoasts to drool over the enjoyment of others; we grab it. And thus, our nascent journey with that Scottish gentlemanly sport began on a tranquil afternoon under the lustrous Sinai sun.
The infantilism started immediately, as no one in our group was willing to relinquish playing Tiger Woods; Jack Nicklaus and Tom Watson, not good enough. Now, everybody is familiar with that aura of detached erudition that golfers exude. To non-golfers, they typically appear like an aloof breed of upper crusters seeking regularly scheduled reclusion from the tiresome exercise of affluence that plagues their otherwise blazé existence -- and that, they appear to attain through golfing. The truth, I can now assure you with informed insight into the matter, could not be farther from the above misconstruction.
Golfers, simply, become obsessed with the grass blades and challenged beyond redemption by the possibility of aiming that tiny ball in that tiny hole on such a huge field with the fewest possible hits. The addiction almost caught up with me when I nearly got the ball in the hole before I even qualified as a beginner. As our golfing session was drawing to a close I started wishing there was anything I could do to stretch that hour on the course. True, the distance separating said ball from said hole was no longer than about 30cm, but this by no means detracts from the feat. If I could only camp on the putting green for about three years, I would eventually get a couple of holes -- that is absolutely certain.
The next time you spot a golfer seemingly oblivious to your existence understand this: you are right, he does not see you; instead, his mind is already visualising that green expanse and rehearsing his aim. At Taba Heights, the course provides five tee placements on each hole. Try beating that!
PROPHYLACTIC PSYCHEDELIA: What's in a salt cave?
Oh, I know. Salt.
There could also be you, in a dream with open eyes.
We didn't really know what to expect, save for the tip we had received about the Taba Heights Salt Cave experience being indescribably relaxing. But would a head-banging, ipod-bearing, 11-year-old young man find any pleasure in the soothing experience, or should we perhaps wisely arrange for a more electrifying pastime on his account? Everybody enjoys this cave, we were reassured. Everybody.
Up at Al-Wekala, a door was generously opened to us. An unostentatious, indistinct, ordinary door, really -- nothing likely to lead to an actual cave. That confused me, but in my infinite wisdom I remained quiet about it and just followed the leader. A small waiting room received us, welcome drinks were served, everybody was absolutely charming; but where is this cave? Another door, it turns out, opens from within and onto a sight I had never seen before. Like me, when you hear salt cave you probably imagine a natural, large, cold and dark cave. Not so. This, Egypt's first ever salt cave, is a man-made miracle to the senses, an elixir of life to the body, and a massage to the mind.
You are surrounded by salt shipped from the Dead Sea and Siwa Oasis; you tread on a thick layer of crushed salt, the sound of gravel under your feet crunching with every step you take. You walk under a domed ceiling of salt, along walls of salt, until you reach the hall where a small number of chaises-longues await you. You lay on one and begin to contemplate the salt stalactites hanging above you. You still don't know what is really going on here, but you feel good by now. The air, though you can't see it, is laden with iodine, potassium, calcium, magnesium, iron, bromine and selenium, among other minerals, already working their invisible music on the functioning of your body and mind in this hugely positive microclimate. You still don't realise what is going on until the 45-minute session begins.
Hubby, I and son, respectively, are tranquil and comfortable each on his chair, exchanging anticipatory glances, a trifle excited at what appeared like a magic show about to begin. And then it does. The blue lights, which had hitherto lit the white interior, gradually dim as music soothing the unruliest mind starts wafting to our ears, barely audible, and infinitesimal lights encrusted onto the walls commence their accompanying dance of scintillating colours. Once more, two choices: abandon ourselves to this feel-good blanket wrapping itself around our lulling bodies and succumb to the slumbers drawing us into a lattice of sweet zzz's; or resist the opulence of this bed of roses and somehow keep our eyes from closing in order to relish these unrivalled moments of psychedelic stimulation. As with life, we think we have a choice -- the emphasis being on 'think' -- and we are snoring in a matter of minutes. All of us.
When we came to, we felt as though the colours of the entire Red Sea fish population had painted our souls. What a surge of energy. One of us got up, went down to the floor and euphorically began making snow angels in the salt -- I am not telling who.
HEART OF LIGHTNESS: We had just received a dose of peaceful tranquility to last us an entire year and now some thrills were in order for balance. We could head to Waterworld, the five-star water sports facility and diving centre catering to every possible need water aficionados at Taba Heights may contemplate. Seriously, it is the only venue of its kind in the entire region providing windsurfing, parasailing, water skiing, wake boarding, cat sailing, kite surfing, and even submarine excursions. But we had established ties with the minerals, and preferred to consolidate them with another experience on land. That is how quad biking came to be the name of our new game.
If you've never tried it, let me give you this word of advice: should you find the quad trail to be set in an open space, press on the gas for exhilaration by all means; but should the trail lead you into chasms between towering mountains, like ours did, please don't ruin the moment, just take it slow and easy for a totally different discovery.
Yassine was ecstatic about the possibility of driving a quad bike on his own, but I wasn't rejoicing. After checking that all safety measures were being professionally followed at the Canyon Motor Safari service -- incidentally, the first five- star quad biking centre in all of Egypt with numerous awards and accreditations to its name -- my husband decided that independence and bravery were always commendable traits to cultivate in a child. Why can't I just be unreasonable about it and refuse? Neither of them gave me room for overprotection and I eventually gave in. Men...
Mandatory helmets in place, gloved-hands tightly gripping the steers, off we set out, the trail meandering deeper and deeper into the mountains. The barren sides of the gorge we explored were close enough to touch at times, facilitating an unexpected relationship of intimacy with these otherwise overbearing heaps of dense solid mass. Dialogue with the stone is very possible -- and very comforting.
The palette inside these canyons paints nothing short of the heart of our earth onto the surface of its own grandiose canvas -- a giant candidly opening up to reveal the depths of his hidden self. The Bedouin tent erected deep in the gorge offers the shade and silence required to reflect on the magnitude and significance of this close encounter with Sinai's mountains. You can hear a pin drop; you can hear the ongoing conversation between sky and earth and interpret some of its secret language. The code is not really that difficult to decipher: "The answer, my friend, is blowin' in the wind".
Add a comment