← Back to portfolio
Den of pleasures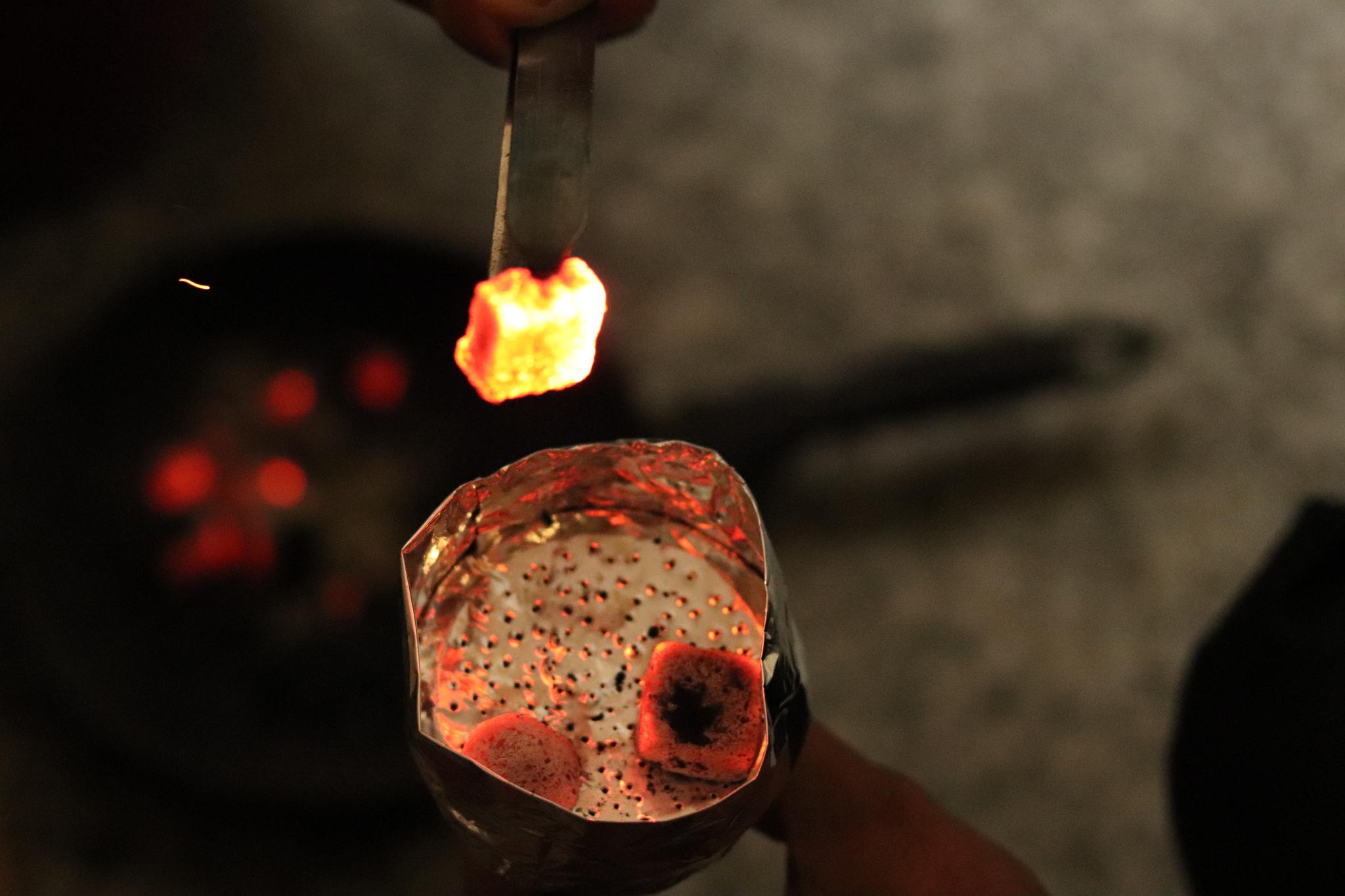 Tornado had high aspirations from conception, yet a simple twist of fate granted it even more than it ever hoped to achieve. It began as a restaurant and coffee shop but soon became one of Cairo's most popular hangouts thanks to one small detail: its huge television screen. It all happened during the last World Cup round when masses of shabab flocked from all corners of town to watch the matches while smoking their shisha and sipping their tea.
It is only logical, therefore, that Tornado should be at the top of most night-dwellers' list during the holy month of shisha and television programmes. Besides its 90-inch screen, Tornado has suspended a great number of regular sized screens all over its living-room-like interior and its covered garden exterior; a blessing for most, torture for some. For a modest minimum charge of LE15, dozens of young men and women lounge about watching endless soap operas, the waiters sympathetically switching the channels at the right time.
Ordering one hagar (helping of shisha tobacco), for LE5, means receiving two helpings of any of their seven flavours: regular, apple, cantaloupe, cappuccino, apricot, fakhfakhina and lemon -- the latter obviously popular, judging by the smell of synthetic lemonade in the air. But there is more to Tornado than just smoke. Its extensive menu boasts salads, cold and hot sandwiches, main courses, appetisers, pasta, desserts and, of course many warm beverages besides the juice cocktails. Just as abundant on the menu were the spelling inaccuracies which one cannot help but notice; the eternal b/p dilemma being responsible for mistakes like kharoup, pikiny, escalop banee, to mention but a few.
Our orders arrived swiftly. The Picata Mushroom ("tenders of special petelo meat with very special mushroom sauce" for LE20) was quite delicious despite leaning to the salty side; its rich sauce bathed large pieces of mushroom and complemented an already moist heap of rice. The Curry Chicken ("chicken breast with curry sauce and tenders banana" for LE16), on the other hand, was rather bland and tough. Not much curry at all and a total absence of bananas made for a disappointing dish, despite the care they invested in the garnishing.
There is really no need to dwell of the "Fahita" meat sandwich (LE8.80) as it was similarly depressing and dry, contrary to the "Grilled Cheese" sandwich (LE5.5) which was juicy and simple, consisting of a thick layer of melted cheese; both are served with pickles and French fries. By the time we finished eating and proof-reading the menu (picking up "Roast Beeaf", "Lazanua", "Ngrsco", and many more) there was hardly any room for desserts. A great substitute, however, is the Tornado Cocktail (LE8) which offers layers of really fresh guava, mango and strawberry juice.
Tornado deserves its reputation and, despite the large number of customers, one never feels as claustrophobic as is the case in most other smoke-screened venues. If you are a non-smoker, however, it is probably wise not to set foot near Midan Aswan, as the shisha scent floats out the same way kitchen smells do in stock cube advertisements.
Tornado, 3 Midan Aswan, behind Atlas Hotel, Mohandessin Tel: 345 4394

Photo by Awesome Sauce Creative on Unsplash

Add a comment