← Back to portfolio
A round of applause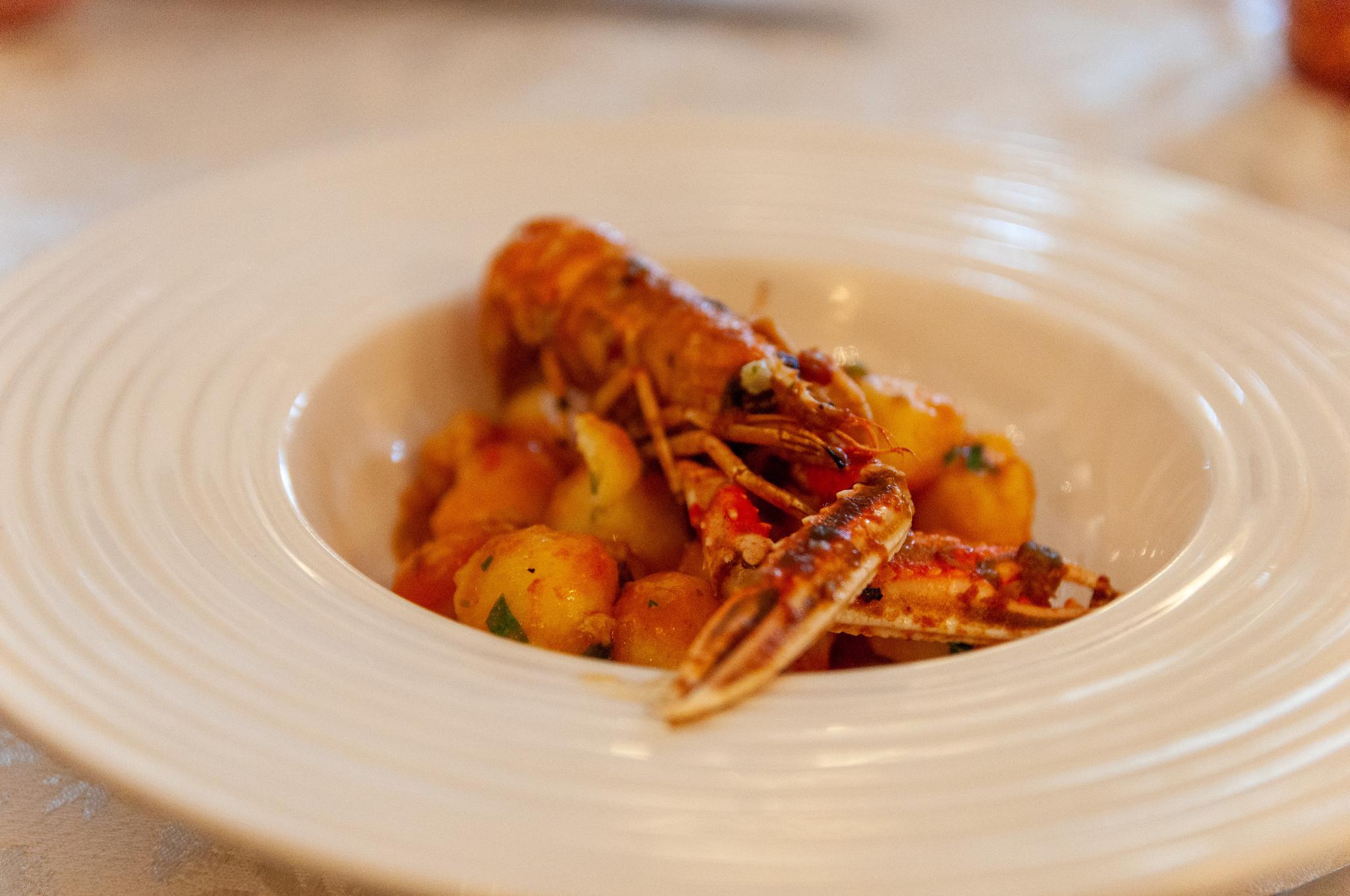 Carambola is perhaps the most convincing concrete proof that the world is a stage, the diners are the spectators, the chef is the director and the food is, well, the play. We should have arrived in our diamonds and fur coats for such a soirée. What with the stage design, the rich brocade tablecloths, the dramatic masks adorning the walls, the pearl necklaces curled around tree trunks and the sumptuous atmosphere, the whole situation was a trifle baroque in an enticing, elegant and tacky way.
The menu, in keeping with the allure Carambola has set for itself, is brief and high-brow, the main items in Italian and the details in English. It did not include any soups but, in keeping with our habits, we ordered some anyway. Both the Tomato Soup and the Cream of Chicken Soup were tasty, too salty and light. This prologue was immediately followed by a clever cliffhanger: the Crostini al Salmone, crisp slices of bread topped with melted mozzarella and shredded smoked salmon. More smoked salmon was yet to appear, as one of the main features of the menu.
One act after another had us on the edge of our seats, with the pasta -- Penne San Remo (with béchamel, chicken, broccoli and cheese) and Gnocchi Carambola (with caviar and smoked salmon sauce) -- as the climatic moment.
These flights of creativity were followed by less dramatic episodes like the Medaglioni al Burro Aromatico (beef medallions with maître d'hôtel butter), which promised to be a spectacle, but left the burro backstage. Similarly, the Bistecca di Salmone (salmon steak) failed to make an appearance at all and had to be replaced by the Medaglioni al Pepe, an eager understudy.
Unfortunately, too few spectators attend the Carambola show, probably because of its location. This is a reasonable explanation for the frequent absence of dishes we witnessed there, although the waiter's explanation was that there had been a huge party that ate everything away. Huge party? My guess is that the waiter was just having a serious episode of wishful thinking. Big pity. The cast on the Carambola menu knows what it's doing and each is perfectly qualified for its part. All they need is a proper audience for the show to roll.
A delightful performance for two came up to LE187, including two take-away pizzas for the morrow's lunch (Pizza Carambola at LE20 with mozzarella, cream, smoked salmon, caviar and shrimps, and the Pizza Disco Volante at LE16 with mozzarella, cream, mushrooms, pastrami, artichokes, chili peppers and olives). If you haven't guessed alone, items labelled Carambola feature dainty, soft, expensive, small, smelly pink fish.
Carambola, 75 Mohamed Hussein Heikal St, parallel to Abbas Al-Aqqad St, Nasr City  Tel. 275 3860

Photo by Marika Sartori on Unsplash

Add a comment